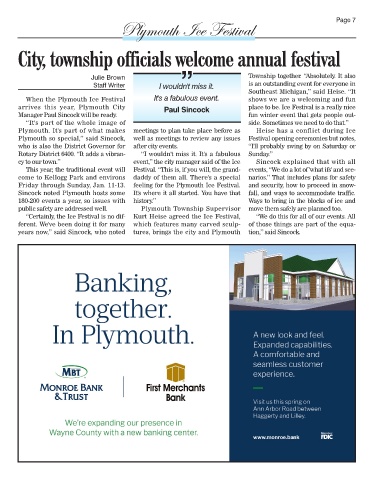 Plymouth Ice Festival                                              Page 7



       City, township officials welcome annual festival



                             Julie Brown                 "                    Township together. "Absolutely. It also
                              Staff Writer        I wouldn't miss it.         is an outstanding event for everyone in
                                                                              Southeast Michigan," said Heise. "It
         When the Plymouth Ice Festival         It's a fabulous event.        shows we are a welcoming and fun
       arrives this year, Plymouth City             Paul Sincock              place to be. Ice Festival is a really nice
       Manager Paul Sincock will be ready.                                    fun winter event that gets people out-
         "It's part of the whole image of                                     side. Sometimes we need to do that."
       Plymouth. It's part of what makes  meetings to plan take place before as  Heise has a conflict during Ice
       Plymouth so special," said Sincock,  well as meetings to review any issues  Festival opening ceremonies but notes,
       who is also the District Governor for  after city events.              "I'll probably swing by on Saturday or
       Rotary District 6400. "It adds a vibran-  "I wouldn't miss it. It's a fabulous  Sunday."
       cy to our town."                   event," the city manager said of the Ice  Sincock explained that with all
         This year, the traditional event will  Festival. "This is, if you will, the grand-  events, "We do a lot of 'what ifs' and sce-
       come to Kellogg Park and environs  daddy of them all. There's a special  narios." That includes plans for safety
       Friday through Sunday, Jan. 11-13.  feeling for the Plymouth Ice Festival.  and security, how to proceed in snow-
       Sincock noted Plymouth hosts some  It's where it all started. You have that  fall, and ways to accommodate traffic.
       180-200 events a year, so issues with  history."                       Ways to bring in the blocks of ice and
       public safety are addressed well.    Plymouth Township Supervisor      move them safely are planned too.
         "Certainly, the Ice Festival is no dif-  Kurt Heise agreed the Ice Festival,  "We do this for all of our events. All
       ferent. We've been doing it for many  which features many carved sculp-  of those things are part of the equa-
       years now," said Sincock, who noted  tures, brings the city and Plymouth  tion," said Sincock.