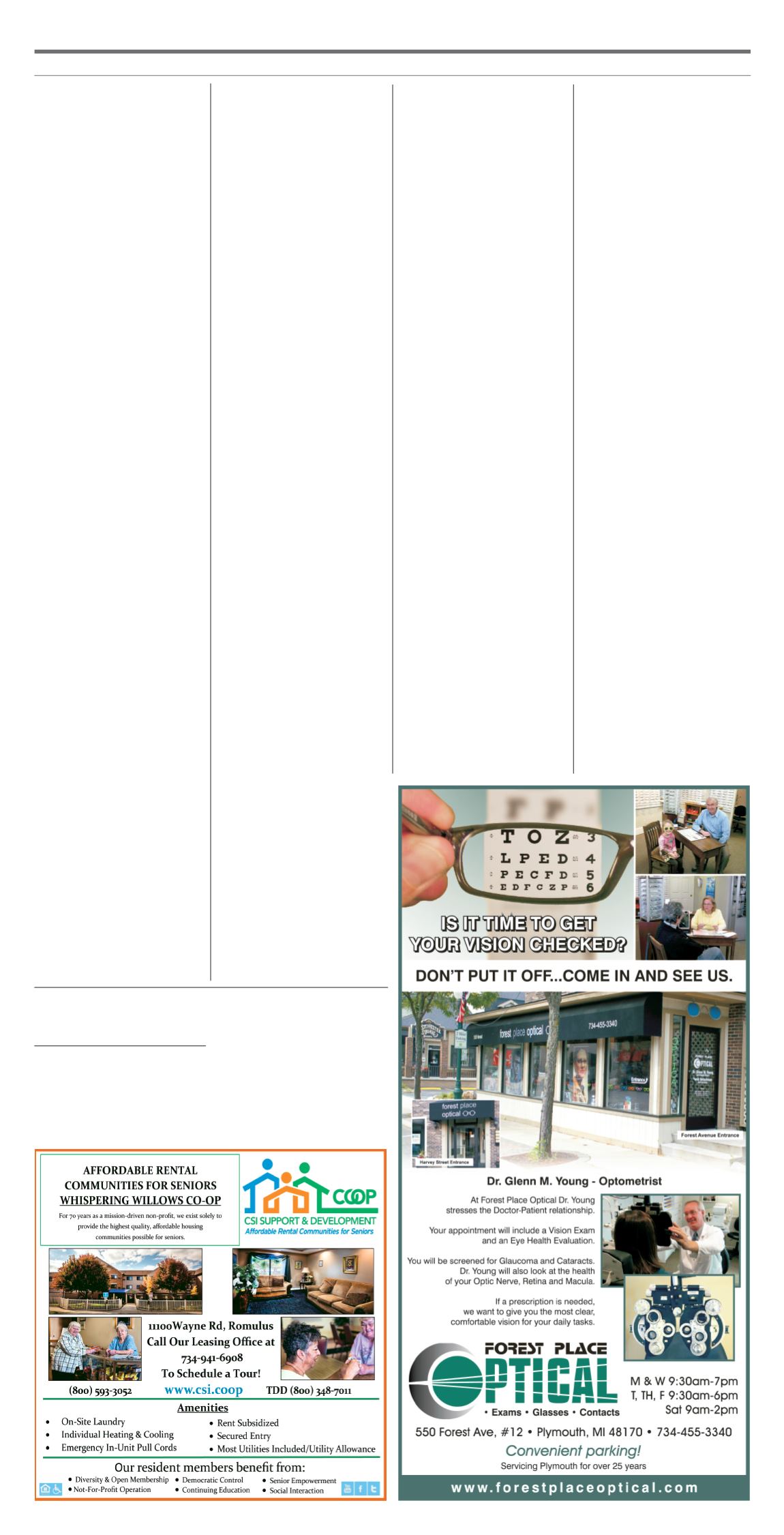 A grief-recovery seminar and support
group will meet at Romulus Wesleyan
Church, now known as 5 Points Church, in
Romulus at 6 p.m. Thursdays through Dec.
20. The church is located at 37300 Goddard
GriefShare features nationally recog-
nized experts on grief and recovery topics.
The 13-video sessions include "Effects of
Grief," "When Your Spouse Dies," "Your
Family and Grief," "Stuck in Grief," and
more. Attend any or all sessions. A $15 regis-
tration fee will include a workbook/journal
More information is available by calling
the church at (734) 941.1511 or on the web at
Library hosts dragons and unicorns
The Plymouth District Library will host
dragon and unicorn lovers of all ages from
11 a.m. until 1 p.m. onSaturday, Sept. 15.
The magical celebration will include a
15-minute story time for younger children
while all ages can enjoy a treasure hunt
through downtown Plymouth and choose
the path of the unicorn or the path of the
There will be a photo booth, snacks,
crafts and games from noon until 1 p.m..
The event is sponsored by theFriends of the
The library is located at 223 Main St. in
Plymouth. For more information, call (734)
The City of Plymouth and Plymouth
Township will offer a shred day for all resi-
dents of both communities from 9 a.m. until
noon Saturday, Sept. 15, or until trucks are
filled at the Plymouth Township Hall park-
ing lot, 9955NorthHaggertyRoad.
Paper to be shredded is limited to five
banker boxes on each trip. Residents can,
however, make multiple trips throughout
the morning. Documents can be in paper
bags or boxes when brought to shredding.
Documents in plastic bags must be
Residents participating must also pro-
vide proof of city or township residency
which can be done with a driver's license,
voter IDcard, water bill, or property tax bill.
For more information, email the City at
Diamond of Community to be honored
The Wayne Commission on Aging has
chosen the recipient of the 24th Annual /
2018 Diamond of the Community, Patt
A dinner in her honor will take place
beginning at 6 p.m. Tuesday, Sept. 18.
Tickets are priced at $15 per person and
are available at Wayne City Hall and the
Senior Services Office. Checks should be
made out to theCity ofWayne.
Formore information or special arrange-
ments for tickets, call (734)721-7460.
DanceBunnies classes available
The City of Plymouth Recreation
Department will offer two dance classes
designed for children ages 3-5. Ballet is an
8-week class from 4-4:30 p.m. Tuesdays,
Sept. 18 through Nov. 13. Hip Hoppers is
also an 8-week class from 4:30-5 p.m.
Tuesdays, Sept. 18 through Nov. 13. Both
classes will take place at the Plymouth
Cost for each class is $108 for City of
Plymouth residents and $123 for non-resi-
Registration is available online at
455-6620, 11:30 a.m.-4:30 p.m. Monday
The City of Plymouth Recreation
Department will offer a Zumba class
designed for children ages 5-7. Zumba
Bunnies is an 8-week class from 6-6:30 p.m.
Mondays, Sept. 17 through Nov. 6 or from
6:30-7 p.m. for ages 8-12 at the Plymouth
Zumba Bunnies is a unique program
with a fast paced environment and constant
Cost is $108 for city of Plymouth
Residents and $123 for non-residents.
Registration is available online at
455-6620, 11:30 a.m. until 4:30 p.m. Monday
A fire and police public safety millage
town hall meeting is planned for Romulus
residents beginning at 6 p.m. Sept. 19 in the
BarthElementary School cafeteria.
The school is located at 38207 Barth St.
Membership, volunteers drive set
The Belleville Area Historical Society
will host a special membership and volun-
teer drive from 6-8 p.m. Sept. 20 at the Ted
Scott Campus of Wayne County Community
Entertainment will be provided by Joe
and Rose Kennedy impersonators and will
answer questions about all things Camelot.
Salad, pizza and assorted refreshments will
be provided during the evening which is an
effort to increase membership, raise aware-
ness of the museum and elevate volunteer
participation, according to organizers.
The $20 admission fee will be waived for
those who sign up for a newmembership in
themuseumaswell as for existingmembers
who bring in a newmember. There is no fee
for those who sign up as a volunteer for the
Veteran'sHealth Summit set
A Veteran's Health Summit is planned
from 9 a.m. until 1 p.m. Sept. 20 at the
VisTaTechCenter at Schoolcraft College.
This is the 9th Annual Veterans' Summit
which brings experts together with veterans
in need of understanding the benefits for
which theymay be eligible. Topics this year
will include an update on the Veterans
Administration Ann Arbor Medical Center;
a state veterans update; information regard-
ing the veterans home for southeast
Michigan; ways to maximize veterans
health care; veterans health and medical
cannabis and an update on disability bene-
Veteran specialists will also be on hand
to address special needs. Representatives of
the Veterans Administration the Michigan
Veterans Association and counselors from
WayneCountywill answer questions.
Veterans and guests must register for the
annual-veterans-health-summit-tickets.
The Inkster Police Department will host
a free Movie Nights beginning at 8:30 p.m.
Friday, Sept. 21 in the parking lot of the
Inkster police Department, 26279 Michigan
Themovie to be shown is Trolls.
The movie will be shown outside so
guests should dress for the weather and
bring a chair or blanket onwhich to sit.
Citizens of all ages are welcome. In the
event of rain, themovie will be rescheduled
Community Baby Shower planned
A Community Baby Shower is planned
from 11:30 a.m. until 2:30 p.m. Saturday,
Sept. 22, at TrinityEpiscopal Church.
The speakers for the event will be Hilary
Hitte from First Step and the Rev. Markita
The church is located at 11575 Belleville
Road just south of I-94 Service Drive.
Refreshmentswill be served.
This is a free event open to the public.
For more information about shower
needs for infants and toddler contact M.
Theatre classes being offered
Inspire School of Theatre Arts is offering
Taking the Stage Theatre Classes for stu-
dents ages 7-15 for 10 weeks, Sept. 22
The cost for the 10-week program, divid-
ed into age categories, is $175.
To register or for more information,
Westland Center for the Arts is located at
33455WarrenRoad inWestland.
The City of Romulus will host a free
Health Fair from 1- a.m. until 2 p.m.
Wednesday, Sept. 26 at the Romulus Senior
Center, 36525BibbinsRoad inRomulus.
The fair is open to people of all ages.
Flue shots, Shingles vaccinations, free
screenings, blood pressure checks, blood
sugar screenings and other health screen-
Therewill also be raffles andprizes.
To pre-register for inoculations or for
more information, call (734) 955-4120.
Inkster hosts ''Car'nival
A display of fuel injected classic cars and
motorcycles is set for 3-7 p.m. Saturday,
Sept. 22 on the southwest corner of
Michigan Avenue and Inkster Road in
For more information about the event,
Firefighters planMeet andGreet
A public safety Meet and Greet is set for
5:30 until 7:30 Sept. 27 in theHistorical Park
Pavilion, 11147Hunt St. inRomulus.
Tickets for event are $25 and include two
There will be a static display of public
safety equipment, photos with fire trucks
and police cars available, a raffle for a ride
in the bucket of the ladder truck, door
prizes and a 50/50 raffle during the evening.
Citywide garage sales set
The City of Romulus annual fall Free
City Wide Garage Yard Sales will take place
fromSept 27 through 30 this year.
Residents wishing to have a sale with no
permit fee should register in the office of
the city clerk no later thanFriday, Sept. 21 to
be included in the newspaper publication
Formore information, call (734) 942-7540.
Church hosts craft show, festival
St. John's Episcopal Church will host a
Fall Festival and Craft Show from 11 a.m.
until 10 p.m. Saturday, Sept. 29.
The craft show will be open only until 4
There will also be a bounce house, beer
tent, food, bake sale and silent auction and
live entertainment from2-10 p.m.
The church is located at 555 S. Wayne
Road, Westland. For more information, call
Diabetes cookingworkshop set
A six-week workshop includes interac-
tive sessions presented by trained culinary
and nutrition instructors. Hands-on presen-
tations demonstrate the link between nutri-
tion and health, the affordability of healthy
eating, healthy meal planning and cooking
Free groceries and cookbooks are
included to practice new skills at home.
Registration is limited to one workshop and
is open to adults who have not previously
enrolled in a Cooking Matters course. The
workshop is free. To register, visit beau-
mont.org/classes-events or call 1-800-633-
of Wing and Cady streets. The craft mar-
ket, booths, Kids Zone, Children's Pedal
Cars and horse and carriage rides will
continue along with Farmer John
Barnyard Express petting farm from
There will be a variety of events at
Mill Race Village from 12:30 until 3:30
p.m. Sunday including the traditional
duck race and another Eclipse Vintage
Baseball game at 1 p.m. at FordField.
The presenting sponsor of the event is
Dick Scott Automotive Group. A com-
plete schedule of Heritage Festival activ-
Hours this year are 5-11 p.m. Friday, 11
a.m. until 11 p.m. Saturday and 11 a.m.
until 4 p.m. on Sunday. Different events
and programs may have specific hours
during the festival weekend.