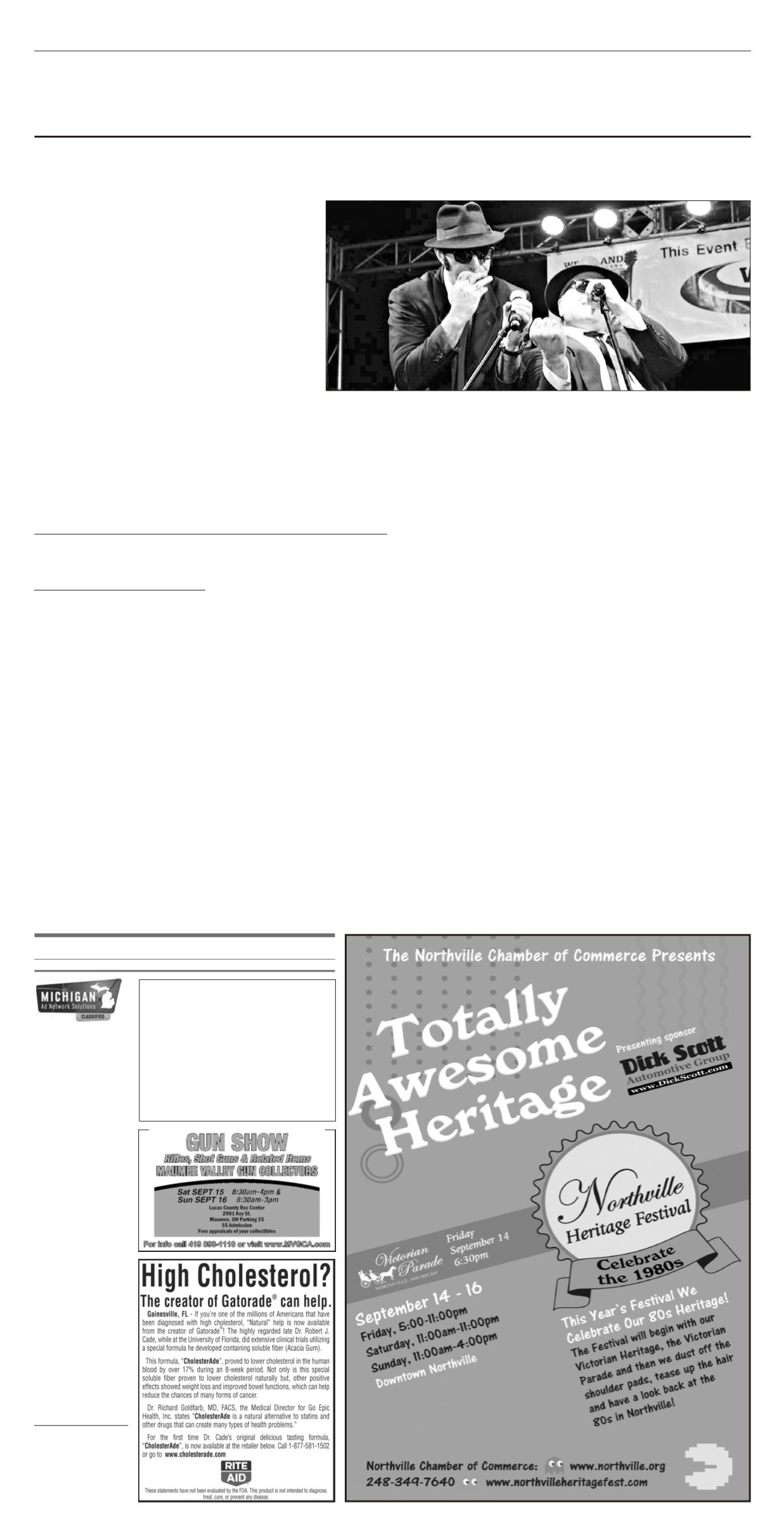 dimension. In stock ready
Galvalume Steel-19 Colors-
Michigan-Call Today 1-800-
CA$H for R12 cylinders or
cases of cans. (312) 291-
Charities benefit from Blues, Brews & Barbecue
Scarecrow entries still sought
Infant massage classes offered
TO PLACE YOUR CLASSIFIED AD CALL 734-467-1900
Sixteen community organiza-
tions in Westland will be receiv-
ing $20,000 in contributions this
year from the Blues, Brews and
Barbecue event that took place
Mayor William R. Wild said
that this "puts the total funds
raised for community organiza-
tions at over $200,000 to date in
the eight years of the event."
The checks were presented to
the representatives from the var-
ious volunteer organizations at
the regular meeting of the
WestlandCityCouncil last week.
"I want to thank all of our vol-
unteers, the participating restau-
rants, our sponsors and the per-
formers for another remarkable
event," saidWild. "This signature
event continues to grow and with
the addition of fireworks, draws
thousands of people from sur-
wouldn't be able to pull it all off
without the help of our amazing
The 16 community organiza-
tions who received donations
from the event include: Inspire
Theater, John Glenn Cheer,
NorwayneBoxing Club, St. John's
Church, Warm Hearts, Westland
Civitans, Westland Community
Democratic Club, Westland
Goodfellows, Westland Grange,
Westland Historical Commission,
Westland Area Jaycees, Westland
Lions Club, Westland Police
Explorers, Westland Rotary,
Westland Youth Assistance and
the Westland Youth Athletic
"The money awarded to the
Westland Area Jaycees goes
directly back to making an
impact within the three cities
they serve - Wayne, Garden City
Markonni. "From raking leaves
for seniors, to putting a
Christmas gift in the hands of
over 100 children that would
have gone without, the Westland
Area Jaycees are here to serve
To receive the funds, these
local organizations provided the
volunteer manpower at the
event. Volunteers from the organ-
izations served as greeters,
grounds crew, and ID checkers,
among a variety of other roles in
an effort to cost effectively oper-
ate the annual event, Wild
"Being able to hand out the
checks is my favorite part," com-
mented Westland Chamber of
Swope. "I always love seeing our
civic groups and being able to
hand themmoney instead of ask-
ing them for something is a great
"We are blessed in our com-
munity to have so many great
organizations and volunteers.
This community event would not
be possible without all of these
wonderful people," she said.
Festival attractions included
some of the best Barbecue ven-
dors in the state, Wild said, and
crowds packed the house to
enjoy the performances of Blues
legends during the event.
political opponent, Christopher Sanders,
removed from the November ballot by
Circuit Court Judge Robert J. Columbo, Jr.
on the basis of unpaid campaign fees and
penalties dating back to a 2013. Sanders
had noted in a handwritten correction on
his filing form that his fees were unpaid.
The judge ruled that this "disfacement"
did not absolve Sanders from the fee obli-
gation and ordered his name removed
from the ballot, leaving Rhaesa as the
only choice of voters for mayor. Current
Mayor Susan Rowe opted not to seek re-
In response to the court ruling remov-
ing him from the ballot, Sanders sent a
complaint to Wayne County Clerk Kathy
Garrett Aug. 30, demanding that Rhaesa
be removed from the ballot and claiming
that "he (Rhaesa) violated Michigan
Election Law in filing his Campaign
Finance Compliance Statement and attes-
tation section of theAffidavit of Identity."
Garrett notified Sanders last week that
she could not remove Rhaesa's name as
her office did not have the investigative
powers to determine the truth or falsity of
candidate's affirmations. She did, howev-
er, note in a Sept. 6 communication to
Sanders that she would forward his com-
plaint to the Wayne County Prosecutors
Office for investigation of the allegations
Sanders claims that Rhaesa affixed his
signature to the affidavit signifying that he
was current in both his campaign fillings
and fines owed to the county. Sanders said
that Wayne County Elections Division
records indicate that this statement is
untrue, false and fraudulent and at the
date of the signing Rhaesa still owed fees.
"As such, Mr. Rhaesa is in direct violation
of MCL168.558 (4) which makes his candi-
dacy invalid," Sanders claimed.
Rhaesa reportedly became current on
the fees days after signing the affidavit.
Sanders said last week that the politi-
cal campaign for mayor between himself
and Rhaesa had become a "personal
vendetta" against himbyRhaesa. He said
his criticism of the current city manager,
who is supported by Rhaesa, is a motivat-
ing factor. Rhaesa, identified in the 105-
page independent report only as "a coun-
cil member," was mentioned as a con-
tributing factor in specific situations
impacting effective management in city
hall for which the investigator suggested
council take immediate corrective action
up to termination of the citymanager.
Rhaesa said that he was satisfied with
Columbo's ruling and that his goal was "to
continue tomove the city forward."
Wayne Main Street is welcoming
Scarecrows back to downtown Wayne
Now through Sept. 24, community
members will be able to register to par-
ticipate in the annual Scarecrow Show.
Anyone interested in participating can
download an entry form at downtown-
wayne.org/scarecrows or by registering in
person at the Wayne Historical Museum
(One Town Square, Wayne). The entry fee
this year is $20 or $15 for returning par-
ticipantswho already have a frame.
Scarecrows will be on display
throughout downtown from Sept. 29
through Nov. 3. Residents are encour-
aged to visit each of the more than 70
installations, while exploring historic
downtownWayne. Residents and visitors
will also have the opportunity to vote for
their favorite scarecrows. Wayne Main
Street will host a Voting Contest &
Reception in Derby's Alley at 34924 W.
Michigan Ave., from 4-7 p.m. Wednesday,
Oct. 17. The event will feature live music
as well as donuts and cider from the
Dexter Cider Mill. The 2018 Scarecrow
Contest winners will be announced at
The ScarecrowShowwas launched by
Wayne Main Street in 2013 and has
become a signature event for downtown
Annually this project draws thousands
of visitors to downtown Wayne to view
the 70 some scarecrows installed
throughout the commercial district of the
The Westland Public Library will host
a free, five-week series of infant massage
classes from 6-7:30 p.m. beginning
Thursday, Sept. 27. The series will take
place at the library and is presented by a
certified infant massage educator in coop-
erationwithStarfishFamily Services.
The classes are designed for pre-crawl-
ing infants and their caregivers.
Expectant parents are welcome to join as
well. Parents will learn gentle and loving
ways to comfort, relieve gas, deepen sleep,
and stimulate brain development in
For questions or to register, contact
call (734) 326-6123, ext. 2847.
Limited space is available on a first-
come, first-serve basis and participants
are asked to attend all five sessions.
Need a job? Looking to buy?
Looking to sell? Need to rent?
Find it fast in The Eagle's
Classifieds. Call 734-467-1900
to place your classified ad