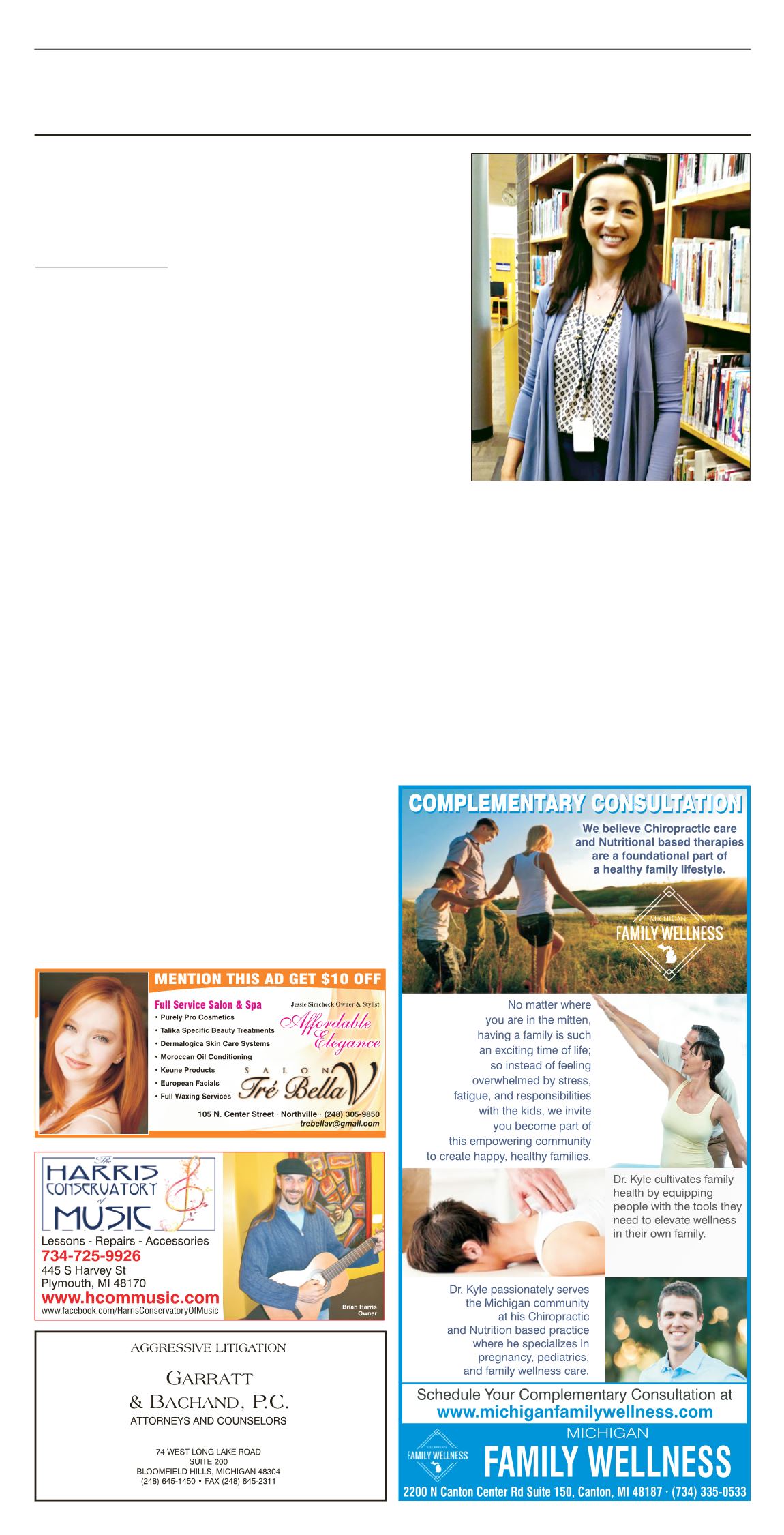 The First Step office in Plymouth will
soon see renovations and upgrades thanks
to a $100,000 grant from the Margaret
The administrative and counseling
offices of the organization, which provides
support services to survivors of domestic
and sexual violence, is located on
PinetreeDrive inPlymouth.
"Our Plymouth office and parking lot
was in need of major safety repairs," said
Lori Kitchen-Buschel, executive director
of First Step. "We had a crumbling parking
lot, holes in our roof and peeling paint.
Frankly, the building was in disrepair with
little chance of finding donors to help. The
generous donation from the Margaret
Dunning Foundation was used to replace
our building's mansard roof and soffits,
install a new asphalt parking lot, profes-
sionally paint the building's exterior,
install new security doors and replace the
aging heating and cooling systems. We also
used the funds to dress up the building
with vinyl trim around the windows and
"We feel like we were the recipients of
a reality show makeover and are thrilled
with the results. Our building is safe, beau-
tiful and comfortable with the exterior
now matching the spirit of our work and,
for that, we are very grateful."
For more information about First Step,
TheMargaret DunningFoundationwas
founded by Ms. Dunning in 1997. She was
born in 1910 in Redford Township and
movedwith hermother to Plymouth in the
1920s. During her lifetime, Ms. Dunning
was a successful businesswoman, philan-
thropist and civic booster. Shewas amajor
supporter of thePlymouthDistrict Library
and the Plymouth Historical Society. In
addition to her personal philanthropy, MS.
Dunning was a classic car enthusiast and
was a regular participant in the
Woodward Dream Cruise with her 1930
Packard 740 Roadster, along with car
shows across the country.
Ms. Dunning died in 2013 at age 104.
Her estate provided additional funding for
the Margaret Dunning Foundation, which
continues to support her charitable inter-
ests and legacy. For more information, go
towww.margaretdunningfdn.org.
Canton library strives for diversity
Grant funds improvements at First Step facility
When Eva Davis was growing
up in Canton Township, she
would visit the Canton Public
Library which was then on the
third floor of the Township
"I was 8 when it opened,"
recalled Davis, who's been the
Canton library director since
2008. "I just remember the
shelves were so empty," as eager
readers had cleared themout.
"The Canton library has been
a popular library from the begin-
ning," the Plymouth Township
resident said, tipping her hat to
the past Canton Township Board
of Trustees for their foresight in
"They knew what they were
doing. They planned it well," she
said of the longtime large building
south of the Administration
Building which serves the grow-
ing township population and
"We are very lucky to have an
educated and affluent communi-
ty," said Davis, who earned a
bachelor's degree in English from
the University of Michigan-
Dearborn and a master of science
in information degree from the
University of Michigan-Ann
"I put myself through under-
grad working retail," the 1990
Canton High School graduate
said. She later worked for the
metro Detroit-based publishing
firmof Gale, andwas visiting pub-
lic librarieswith research teams.
"I realized being a public
librarian brought together the
good parts of retail and the good
parts of research. I have a core
group of people I work with every
day. So it's a real nice sense of
purpose and belonging to the
She noted each public library
director tailors the collections to
those residents. That involves
listen(ing) to what they're telling
us. Buying international publica-
tions is quite a challenge."
The 90,000 or so Canton resi-
dents come from varied ethnic
backgrounds, and she's particular-
ly appreciative of the library part-
nership with the Plymouth-
Canton Community Literacy
"They are a great group of ded-
icated volunteers," she said.
Library meeting rooms are
offered for one-on-one tutoring
with council volunteers, and
there's a related book discussion
group to help English as a second
The Canton library carries
many foreign language books,
newspapers, magazines and
DVDs. TheAsian and SouthAsian
language publications are most
popular with Canton library
"And then we do have a robust
Arabic speaking community" with
those materials also available,
She likes to walk around the
large library on Canton Center
Road south of Cherry Hill Road,
especially the youth area. "This is
verymuch an administrative job,"
she said, including meeting co-
workers, patrons, and collabora-
tive work with other library direc-
She noted patron interactions
tend to be less pleasant, as those
patrons have unresolved con-
cerns to talk to her about: "Once a
youth librarian, always a youth
librarian," she said of those visits
with eager children approaching
her and other adults to talk.
"It's just nice to be the collec-
tion point for people," Davis said,
describing the Canton library as a
good microcosm of the larger
She has six supervisors on the
Library Board and the many
Canton residents she also listens
"There's always a push and
pull. Our energy and our money
and our time is finite," she said of
librarianship. It must "coalesce
into a perfect moment where I
can say 'yes' to that. So we do our
She and co-workers offer var-
ied programs across ages and
interests, with a Detroit Institute
of Arts "Away" trailer visiting in
July to share art knowledge. Davis
said the librarians aren't afraid to
try new ideas but also know some
"We are all part of something
even larger than our communi-
ties," said Davis, noting Canton
library patrons visit nearby
libraries, too. She worked with
Ishwar Laxminarayan, the new
William P. Faust Public Library of
Westland director, when he led
the JacksonDistrict Library.
"The collegiality among the
library directors in southeast
Michigan is strong," saidDavis.