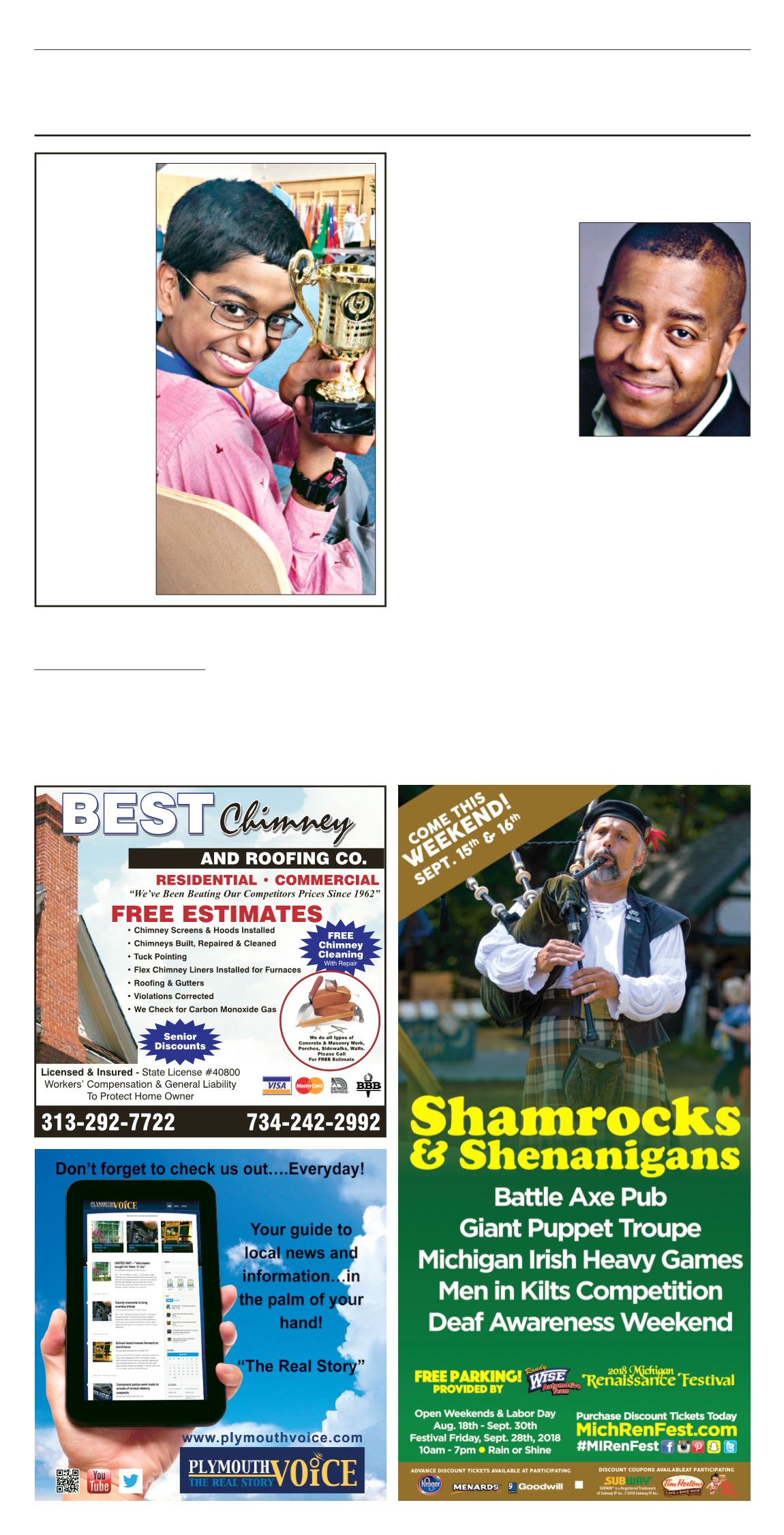 Color My World run Saturday
Rogers Park, a full-length feature film
which stars Inkster native AntoineMcKay,
will be shown Wednesday evening, Sept.
26 at the State Wayne Phoenix Theatre in
a benefit for the Champions of Wayne
Rogers Park debuted at the Chicago
International FilmFestival.
McKay grew up in Inkster and also
graduated from Wayne Memorial before
heading to Eastern Michigan University.
From there, McKay performed on Second
City main stages in Detroit and Chicago
before appearing on television shows
such as ER (NBC), Prison Break and
Rogers Park, named after the Rogers
Park neighborhood in Chicago, follows
two middle-aged couples as they navigate
a complex, dramatic, and sometimes
humorous year in one of the most cultur-
ally diverse areas in the Windy City.
Notoriety for Rogers Park includes a New
York Times "Critic's Pick," a 100 percent
Fresh rating on Rotten Tomatoes, and an
Official Selection at the 2017 Chicago
International FilmFestival.
Rogers Park is rated R (intense adult
situations, sexual content, drug use) and
attendance is strictly limited to those over
17 unless accompanied by parent or
guardian. A separate admission ticket will
Champions of Wayne, which has com-
bined mentoring, incentives, and goal-set-
ting to bolster culture and achievement at
Wayne Memorial for nearly a decade, has
a track record of academic success.
Beginning as a grassroots program in 2009
with a trophy and a #2 pencil, Champions
of Wayne has grown to a robust 501c3 non-
profit and serves as a beacon to other
To purchase tickets for this event, visit
Members of Color My World, a club at
Northville High School, hope to make an
impact on the more than 2,000 students at
the school with a community-focused 5K
color run/fun walk this Saturday, in con-
junction with National Suicide
PreventionAwarenessmonth.
The Color My World Color Run/Walk
will begin with check-in at 10:30 a.m. Sept.
15 at Northville High School, 45700 Six
Mile Road, Northville. The run/walk will
start at approximately 11 a.m. and the
event continues until approximately 1
The run, complete with color powder
to reinforce the club name, will route
through the adjacent Woodlands North
subdivision and end at the high school
track. The entry fee is $25 and includes a
race t-shirt, color powder during the race,
food, refreshments and music.
Registration is online at
world.redpodium.com/color-my-world-
unsuccessful in apprehending the suspect.
Todd Mutchler, Northville Township
public safety director, said many pieces of
evidence were recovered in the ongoing
multi-jurisdictional investigation. He said
the suspect's method of operation is simi-
lar to the CVS robbery last week and is
believed to be related to other armed rob-
Mutchler said charges would be deter-
mined following completion of a full inves-
tigation. He asked if area residents could
review their home surveillance recording
for any suspicious related to the incident
and contact the Northville Police if any-
"Our team did some great police work
on this case,"Mutchler saidSunday.
He added that no additional informa-
tion, including the name of the suspect,
would be released until the Wayne County
Prosecutor made a charging decision in
Inkster native stars in new movie
ing a story in the Aug. 30