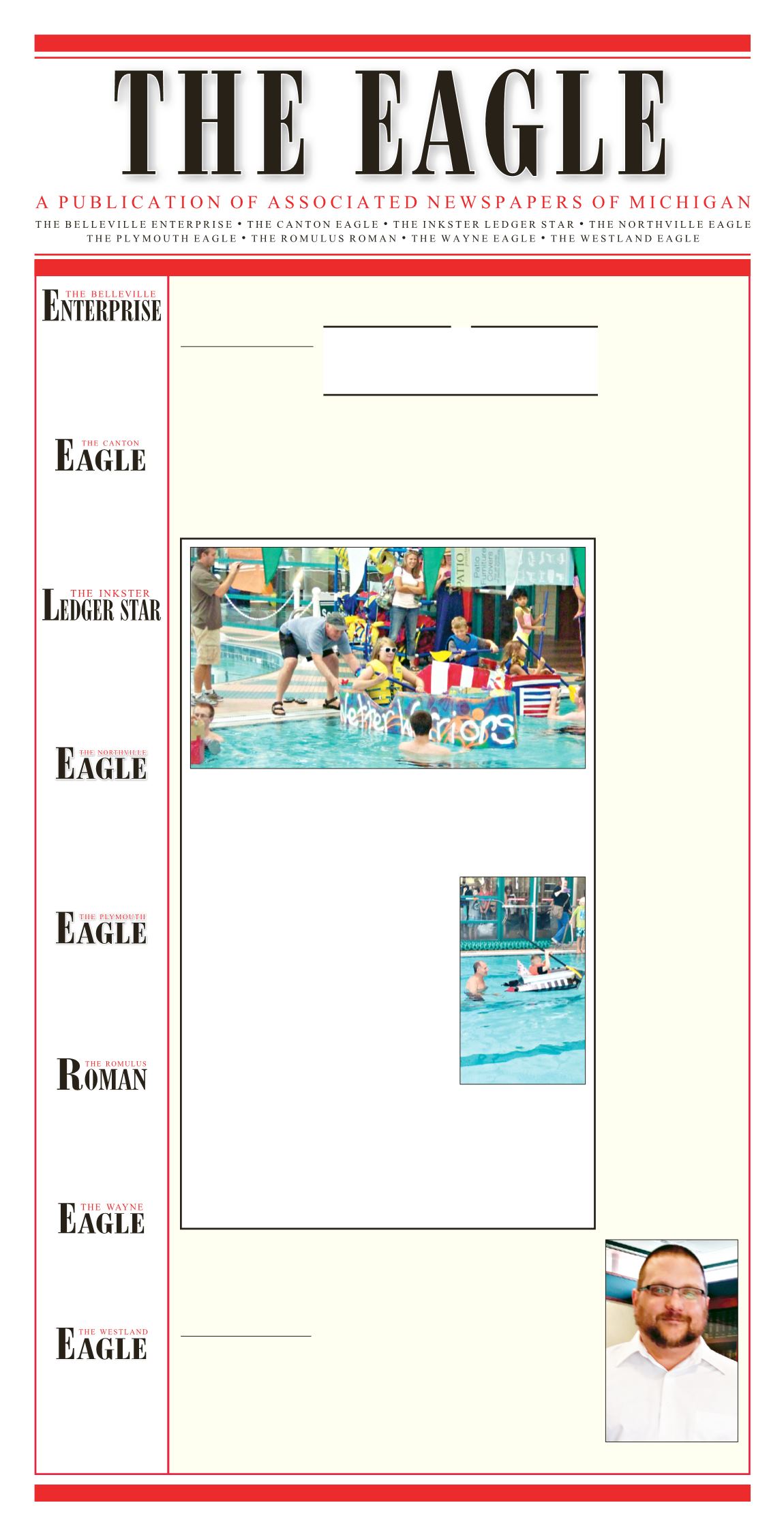 NEWS YOU CAN USE, NEWS YOU CAN TRUST
w w w . a s s o c i a t e d n e w s p a p e r s . n e t
on Aging is seeking nomina-
tions for the Diamond of the
World, a club at Northville
High School will host a 5K
color run/fun walk on Sept.
child hostage at gunpoint fol-
lowing an exchange of gun-
fire with officers remains in
For home delivery of The Eagle call 734-467-1900.
The plans for a city-wide
makeover ofWestland neigh-
borhoods is well under way,
according to Mayor William
R. Wild who announced the
Recreation and Cultural Arts
elected to the state mParks
health fair from noon until 6
Academy, 27100 Avondale St.
already under way and will
Members of the Belleville
two properties on the Five
Points corner in the city.
After almost two years of
ongoing and persistent power
outages, DTE Energy officials
told Plymouth city officials they
"needmore time" to address the
intermittent service problems.
DTE has been the target of
public criticism and scrutiny
and the subject of a Michigan
Public Service Commission
(PSC) investigation regarding
the ongoing and continual serv-
ice interruptions in both
PlymouthTownship and theCity
Amidst public allegations of
nonfeasance from irate cus-
tomers suffering from the fre-
quent service breakdowns and
an admittedly old and worn-out
infrastructure, DTE admitted
there have been problems, In an
open letter last week addressed
"Dear DTE Customer," officials
finally acknowledged the serv-
ice provided to the community
has been, in their words, "unac-
The letter dated Aug. 1, 2018
from Heather Rivard, senior
vice president-distribution oper-
ations, said that while the com-
pany is "working as quickly as
possible" they expect "it will
take us 9-12 months to complete
"We did not build or expand
our infrastructure sufficiently to
keep up the growth in your
area…" Rivard said in the two-
After a fire and explosion
destroyed the Farmer Street
substation in August 2016, DTE
Operations Ryan Stowe told
area residents that 70 percent of
the outages were caused by the
other DTE representatives told
city officials they planed to offer-
improved service with "system
We did not build or expand
our infrastructure sufficiently
to keep up the growth in your area…
Area families are already
preparing for the Fifth Annual
The popular event will take
place beginning at 6 p.m. Aug.
30 at the Aquatic Center inside
Past participants have skill-
fully used creative teamwork
to build a boat entirely out of
cardboard, duct tape, and
paint prior to the event.
must be no larger than 5 ½-
feet wide by10-feet long.
Cardboard boats can either
be built at home or during a
special boat building session
in the Summit on the Park
gymnasium set for 5-7 p.m.
Participants in the on-site boat
building sessionwill get access
to cardboard and three rolls of
duct tape for a $12 materials
fee and can have their boats
displayed at the Summit until
for participants and boats can
be raced by a youth crew com-
prised of one or two individu-
als. Each boat will be timed
individually. Awards will be
presented for Most Creative
andFastest Boat, aswell as the
"We're looking forward to
another exciting competition
at this year's Cardboard Boat
Race," said Brad Chiasson,
"It's great to see families
working together and the com-
petition takes it to a whole
other level of fun. Plus, the
unique engineering and cre-
ative designs make it a great
Entry fees for this event are
$10 for Summit members, $15
for Canton residents, and $20
Summit Boat Dock will open
at 5:30 p.m., with races sched-
Registration for this annual
Cardboard Boat Race is avail-
able in person at the Summit
thepark.org. For additional
information, call (734)394-5460.
The Summit on the Park is
Parkway inCantonTownship.
A little noise at the Wayne
Public Library doesn't bother
Director SteveMcGladdery.
"It's not uncommon for our
kids' side to be a little noisy. We
have planned from the beginning
to have a place where kids can be
kids," McGladdery said of the
24,000-square-foot building on
McGladdery has been at the
helm four years, and holds a mas-
ter's degree in library and infor-
mation science fromWayne State
University along with a bachelor's
degree in psychology from Grand
"It just kind of dawned on me
one day. I initially planned to be a
minister," he said. "I haven't
looked back since," he said of his
decision to become a library
McGladdery worked at then-ITT
Tech Canton campus, including
teaching good study habits and
"who can you trust" on sources of
"We have a level of access to
information we've never had
before. I think that's something
journalists are up against,"
DTE needs 'more time' to repair outages
Cardboard boat races return to Canton
One sailor in the Cardboard
Boat Race last year gets some
Participants and spectators enjoy the ingenuity and creativity of boat builders during the
immediate help to those suf-
fering an opioid overdose.
stocked with Narcan (nalox-
one), an opioid antagonist
used for the complete or par-
tial reversal of opioid over-
dose, including respiratory
depression and blood pres-
sure support in septic shock.
The potentially life-saving
medication was provided to
the department courtesy of a
Patrick Stropes of Growth
Works, Inc., and the Detroit
Authority. By providing and
training police officers on the
use, naloxone can be adminis-
tered within minutes of initial
The addition of Narcan to
enhances the existing service
provided by the Canton Fire
naloxone on all Advanced Life
Support vehicles consisting of
six ambulances and all front-
Firefighter/Paramedics will
continue to administer nalox-
one as part of their emergency
medical service provided to
social service provider in
southeast Michigan, support-
ing individuals and families as
abuse. For additional informa-
tion on naloxone or the many
other services provided by
Growth Works, Inc., call (734)
Librarian says books will remain part of life style