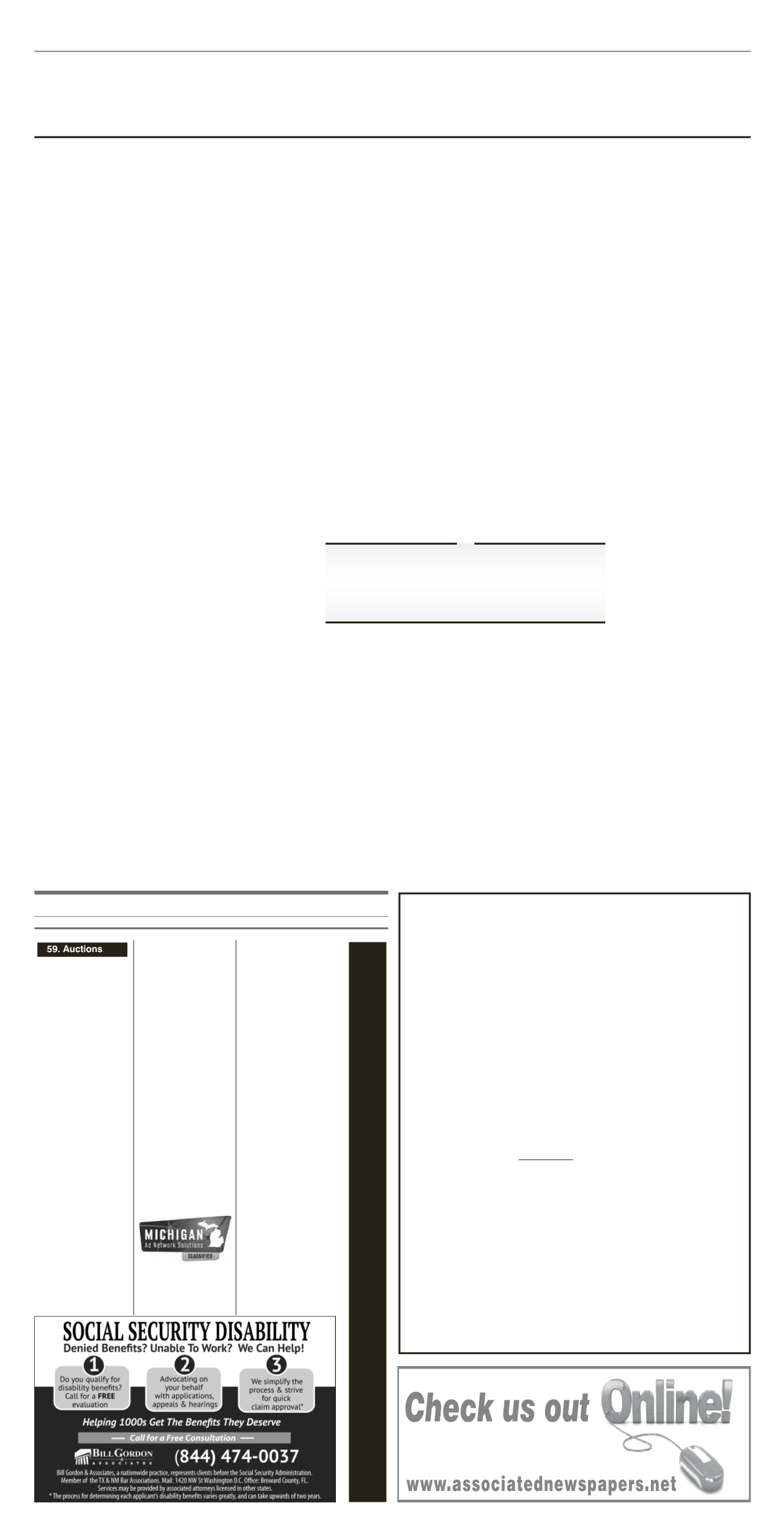 These vehicles were towed
dimension. In stock ready
Galvalume Steel-19 Colors-
Since 1976-#1 in Michigan-
Call Today 1-800-292-0679.
CA$H for R12 cylinders or
cases of cans. (312) 291-
To subscribe to The Eagle call 734-467-1900.
TO PLACE YOUR CLASSIFIED AD CALL 734-467-1900
Wounded suspect surrenders, hostage released
Free Health Fair is planned for Inkster area on Aug. 19
ITB 18/19-06 New 34th District Court
Bid Package No. 3 - Building Enclosure, Interior finishes and MEP Trades
The City of Romulus and the George W. Auch Company will receive firm subcontractor bids for
New 34th District Court project at the 11129 Wayne Road, Romulus, MI 48174. The work includes
the building enclosure, interior finishes and mechanical, electrical and plumbing trades for the New
34th District Court project.
A pre-bid meeting will be held on site, 11111 Wayne Road on August 14, 2018 at 2:00PM. Meet
promptly at City Hall, council chambers.
Sealed bids identified with the company's name, are to be submitted in an opaque envelope marked
"Sealed Bid, Do Not Open" and be delivered in the City of Romulus Clerk's Office no later than 2:00
pm. on August 23, 2018. The bid envelopes shall be addressed:
ITB 18/19-06 New 34th District Court Project, Bid Package 3: Building Enclosure, Interior
City of Romulus Clerk's Office
Complete sets of documents may be downloaded electronically from the MITN Purchasing Group
or Pipeline and are available for review
at the office of the George W. Auch Company, 735 S. Paddock Street, Pontiac, MI 48341
248.334.2000, (Construction Manager) and the City of Romulus Clerk's Office, 11111 Wayne Road,
Romulus, MI 48174, on or after
Bid security in the form of a Certified or Cashier's Check or bid bond for a sum no less than five
percent (5%) of the amount of the Bid will be required with each Bid.
The City of Romulus reserves the right to accept or reject any bid, or waive irregularities in Bids.
No Bid may be withdrawn for a period of one hundred twenty (120) calendar days after the sched-
uled closing time for receipt of the Bids. A contract may ultimately be awarded to the lowest most
responsive and responsible company, as determined in the sole discretion of the City of Romulus or
otherwise in a manner deemed by the City to be in its own best interest.
Neither the submission of nor acceptance of any bid shall constitute a contract between any bidder
and the City of Romulus. No such contract shall exist without first being approved by a formal
action of the members of the Romulus City Council and only after all required bonds and proof of
insurances and copies of endorsements have been received by the City and the agreement is signed
by authorized representatives of the City of Romulus and the successful Bidder.
All questions regarding the project or the ITB documents should be directed only to Danielle
Eschner, George W. Auch Company 248.334.2000 or via email at
RM0325 - 080918 2.5 x 6.762
The man who held a 7-year-old
child hostage at gunpoint follow-
ing an exchange of gunfire with
officers remains inpolice custody.
The man was arrested shortly
after 7 p.m. last Friday after he
surrendered to Michigan State
Police and freed a 7-year-old child
he had briefly held hostage in a
Romulus neighborhoodhome.
The incident began, according
to police reports, as an attempted
car jacking at about 4 p.m. at the
Marathon gas station at Wayne
and Wick roads in Romulus. His
attempt failed and the man
reportedly fled the scene on foot,
running into backyards and over
fences in neighborhoods near
In one of those back yards, in
the 34700 block of Stewart, he
encountered resident Kyle Brown
outside with the family dog, a 2-
year-old pit bull. The dog report-
edly chased the suspect and the
man shot and wounded the dog in
the facewith a handgun as he con-
tinued to flee over a fence. He
was spotted by police officers and
refused to drop his weapon as
ordered, and officers then
exchanged gunfire with the sus-
pect as he jumped back over the
fence, returning toBrown's yard.
The suspect then forcibly
entered Brown's home where two
children were inside, Brown's 10-
year-old son and his 7-year-old
friend. Brownwas able to coax his
son out of the home, away from
the wounded gunman, but the 7-
year-old froze and was subse-
quently held hostage in the home
as police from multiple depart-
ments closed in, according to
The suspect engaged in a barri-
caded standoff with police officers
and Michigan State Troopers who
eventually talked him into surren-
dering hisweapon and agreeing to
his arrest at about 7:30 p.m.
According to Michigan State
Police Lt. Michael Shaw, the sus-
pect was not expecting children to
be inside the house after he was
shot and chose the house at ran-
dom. The dog, Petey, had to be
euthanizeddue to the extent of his
injuries, according toBrown.
Police have not released any
further information about the sus-
pect, his injuries or pending
Adventist Community Services
will present a health fair from
noonuntil 6 p.m. Sunday, Aug. 19.
The event will take place at
Academy, 27100 Avondale St. in
The health fair is free and will
include health screenings for
blood pressure, cholesterol and
glucose and stroke risk assess-
ment, provided by professionals
There will be representatives
from the Beaumont Teen Health
Center, Western Wayne Family
Health Center and Clear Choices
Counseling Services on hand and
activities including some arts and
crafts are planned for children.
There will be free school sup-
plies, prizes and refreshments at
the event, organizers said.
house for children and represen-
tatives from Neighborhood Legal
Services/Michigan Elder Law,
Oak Street Health, Senior
Alliance Service Network and
Several other professionals
will be on site, including dele-
gates from Chapel of the Chimes,
a disaster trainer, a representa-
tive from Karmanos Cancer
Institute, the Let's Get Healthy
Cooking Class and the London
SDA Church Six Table Health
The event is a presentation of
Adventist Church, 28537 Cherry
For more information about
the free event, call (313) 293-9753.
McArthur of Westland learned
their son, Jaxson, 9, was having
speech delays at about age 2,
they weren't sure where to turn.
They tried in-home therapy, and
then a friend made a referral to
programs through the public
schools. It was there that
Summer Speech Therapy pro-
gram at Beaumont Hospital,
Wayne. She liked the idea of
Jaxson working one-on-one with
a speech language pathologist
"I wanted to create continuity
for Jaxson, so the progress he
made during the school year
wouldn't be lost over the sum-
mer," said McArthur. "I believe
he's benefitting from the thera-
Today, Jaxson is working with
his favorite therapist, speech
language pathologist Deborah
Noble, whom he calls "Miss
Deb." This is his sixth year in the
program. His mother said he has
made significant progress with
Miss Deb. He practices different
words and exercises, expanding
what he learned at school by
working with his care team at
"Childrenwho have a difficult
time communicating can also
have a difficult time interacting
with their peers, doing well in
school or performing many tasks
their peers take for granted,"
said Dipti Christian, rehabilita-
Hospital, Wayne. "That's where
the Summer Speech Therapy
program comes in. The program
pairs children with speech ther-
apists who work with them indi-
vidually to overcome their com-
munication barriers, which can
also help improve their school
Accredited by the American
Association, the program is
offered annually and is support-
Beaumont Health Foundation
and Beaumont, Wayne adminis-
tration. Sessions are for children
Participants must have indi-
vidualized education plans to
apply for enrollment, and a
Individual enrollment for the
full seven week program costs
$350. Many children apply for
and receive aBeaumont scholar-
ship, but theymust attend all ses-
sions in order to receive funding.
The seven-week program is
growing from when it started
with only eight children in 2006.
"We have 44 children, so this
is incredible growth," said
Christian. "We have 14 returning
students and 30 new families
this year. It is very moving to see
how the children are progress-
ing and our impact on them."
Shari Sposato, of Taylor,
enrolled her daughter, Giuliana
in the summer speech program
because she has trouble enunci-
ating words. Giuliana turns 3 in
September, and Sposato said
another child in their extended
family also had a speech delay,
but overcame it by beginning
speech therapy at an early age.
"I wanted to enroll her in this
program so she can get a head
start before beginning pre-
school," said Sposato. She ini-
tially attended speech therapy
camp with her daughter, but
decided to give Giuliana the
opportunity to try her first ses-
Feeling like a mom waving
goodbye to her child on her first
school bus ride, Sposato was
waiting with anticipation for the
session to end. "This feels a little
like her first day of school," she
The program runs from June
to early August. Program organ-
izers celebrated the end of the
program for all participants with
an outdoor celebration Aug. 3.
The Summer Olympics-themed
party featured games, pizza and
other treats, and a Beaumont
teddy bear and book gift for each
"This is a truly unique pro-
gram that we're happy to be able
to provide to the community,"
Christian said. "It helps kids be
kids. It's a great feeling, knowing
that we helped these children
learn how to interact better with
their peers-and that they had fun
For more information about
Beaumont Hospital, Wayne sum-
mer speech therapy program, or
to learn more about pediatric
mont.org or contact Beaumont
Hospital, Wayne speech therapy
department at (734) 467-4134.
This is a truly unique program
that we're happy to be able
to provide to the community.
Area hospital offers unique summer speech program