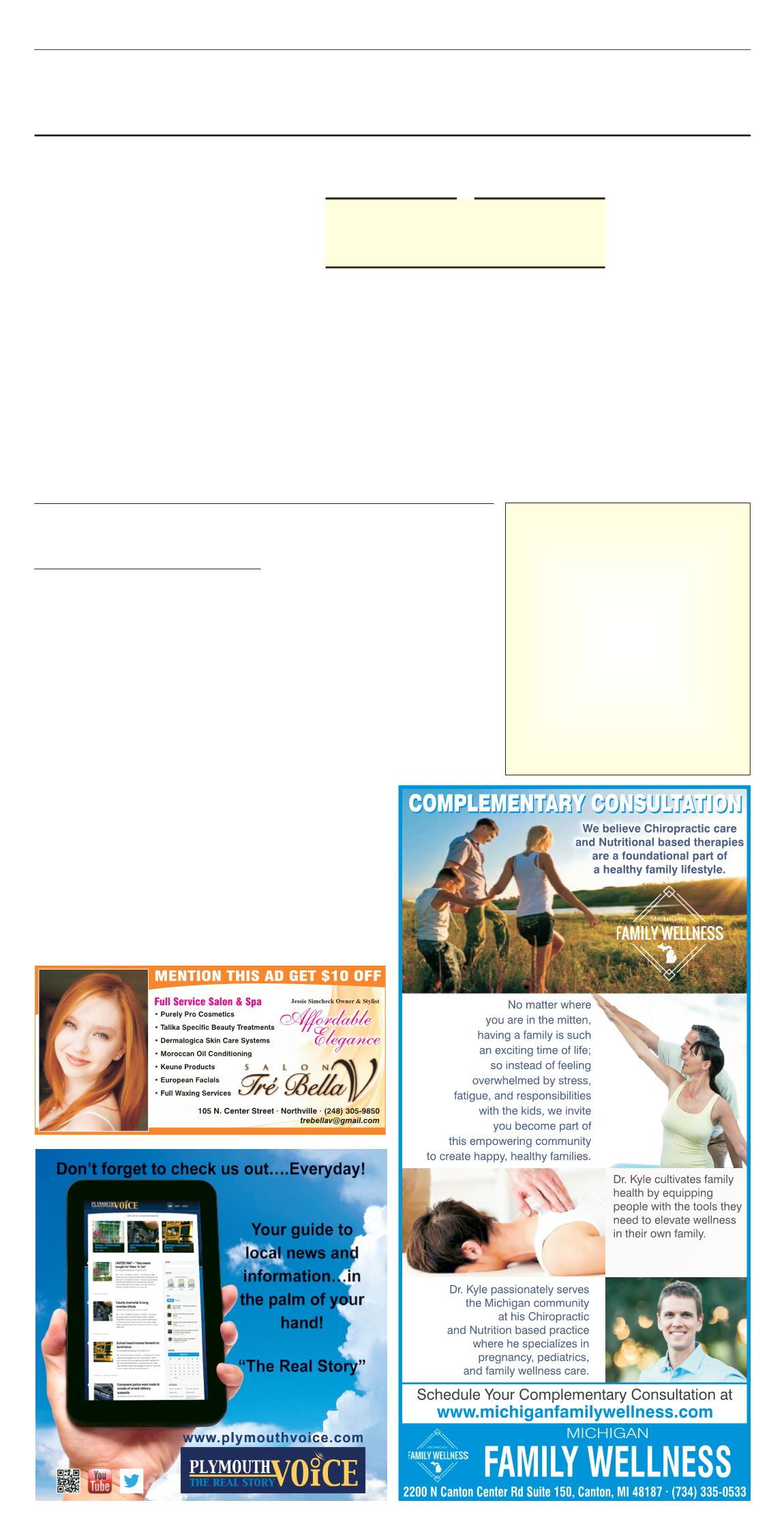 "It's coming at us like a fire hose aimed at a tea cup. It
canbehard to catchwhat to glean andwhat to go by."
He considered working in an academic library, but "I
really wanted to do public just because I love the service
He had worked as a substitute librarian at the
Birmingham Baldwin Public Library and then moved on
to theWixom library before coming toWayne. McGladdery
said he is proud of the staff and theWayne building which
"That's one comment we get, especially from other
librarians and other library directors. For a 20-year-old
building it looks in great shape," he said.
He works with an appointed library board appointed
by the Wayne City Council, relying mainly on the staff for
"I have been known to buy the book myself, read it
quickly anddonate it to the collection,"McGladdery said.
He agrees the administrative work is a challenge. His
biggest responsibility is seeing staff, vendors and others
"It was a huge jump," he said. "I definitely have a great
admiration for anyonewho does this job."
His predecessor, Paulette Medvecky, faced significant
health issues and nevertheless worked hard to train him
before her death. A children's storytime area is named in
The staff numbers about 20, working with an annual
budget just under $400,000. The nonfiction librarian is
strong on current issues such as diversity, gender and
LGBTQ, reflected in the collection, McGladdery said.
"We have a great nonfiction collection. It's not just
issues of the day. It's also fun," he said.
"The real heroes are the staff. They're the ones that
really create a positive user experience. I couldn't be
more proud of the staff that is assembledhere," he said.
This July, an "Animal Magic" program for kids was part
of summer reading and drew a crowd to see live animals.
An adult program with the Wayne Historical Society fea-
tured a speaker whose family had owned the local dry
"We must have had 100 people here. There's definitely
a lot of hometownpride,"McGladdery said.
"They love popular fiction," he said of Wayne patrons,
naming Clive Cussler, John Grisham, and Dan Brown as
popular authors. "And local history, people really love the
Of his own reading, McGladdery, who's married to
Bethany McGladdery, said, "Oh, you name it. I love
StephenKing."He saidhe enjoys history too.
"And that's history of everyone, everywhere," said
McGladdery, who likes all genres.
He agrees the print book is here to stay. "People have
been saying that for a long time," he said. It started with
the cassette book, then the e-book.
"They have leveled out at about 30 percent of market
share," he said of e-books.
"Kids' books are the big mar-
ket where they never really
got it. Even fiction. People still
want the physical book in
their hand," said McGladdery,
agreeing he's that way after a
"I do like to travel when I
can. I love fishing," said
McGladdery, who also walks
outside, "anything tounwind."
"Not everyone knows the best
way to use it. That's where the
The plans for a city-wide
makeover of Westland neighbor-
hoods is well under way, accord-
ing to Mayor William R. Wild who
announced the plan last year.
The campaign to beautify all
Westland neighborhoods includ-
ing dividing the city into 50 sec-
tions so that crews could perform
a 50-point checklist in each area,
noting work that needed done in
each neighborhood. Wild said that
the work began in 2017 with the
neighborhood near P.D. Graham
Elementary school on the western
During the initial inspection,
city workers check for needed
work on trees, signs, water, roads,
sanitation, sewers and hydrants.
already seen the work completed,
while it remains under way in oth-
ers, according to a statement from
To date, the city has completed
work on 3,779 trees, including
removing dead trees, trimming
trees from streetlights and street
signs and removing low branches
hanging over roads and sidewalks.
About 634 signs have been
straightened, repaired or
replaced in the city under the pro-
Work on 1856 roads has been
completed including surveys of
conditions and identifying needed
repairs or sealing. City employees
have identified storm manholes
and catch basins that needed
repair and have cleaned storm
sewers where necessary. Draining
problems have been repaired and
catch basins have been vactored.
Roads have been swept, street
lights inspected and potholes
patched. Dirt roads in the city
have been graded and calcium
chloride applied where needed.
The right of way areas have been
guardrails repaired where need-
ed. The city has also cleaned out
ditches and identified culverts
Fire hydrants and the water
distribution system have been
inspected, repaired, and painted
while curb boxes have been locat-
The location of lead service
lines has been documented and
lines replaced as needed. Water
gates have been exercised, too,
according to themayor's office.
The sanitary sewer system has
seen 256 completed repairs
including cleaning of mains,
inspections and cleaning of man-
holes and the identification of
manholes that need repairs of
Broken garbage bins and bro-
ken recycling bins have been
The ongoing maintenance of
city parks has continued while
several private properties have
been inspected for high grass.
Vacant home registration has
been verified and inspection of
vacant homes completed to
ensure they are safe and secure.
The city has mown tall grass on
private property, where needed, to
ensure a better look for the neigh-
Inoperable vehicles have been
removed from neighborhoods
along with illegal sings and checks
for non-permitted construction
activities and rental properties
completed. The city has also
investigated animal control com-
plaints and responded to rodent
complaints, as part of the beautifi-
Crews have completed work in
nine of the 50 districts and are
completing their work in an addi-
tional 11 areas. The crews are cur-
rently at work in districts 14 and
"This program is a comprehen-
sive citywide neighborhood revi-
talization which involves work
fromthe city aswell as individuals
around the community who are
willing to role up their sleeves and
put in extra effort to maintain the
city's aesthetic appeal," comment-
edWild. "Together, we can ensure
that Westland remains a great
place to live, work, play and raise
Crews have completed work
in nine of the 50 districts and are completing
their work in an additional 11 areas.
Westland neighborhood makeover under way
The Wayne Commission on Aging is seeking nomina-
tions for theDiamond of theCommunity award.
Nominees must be Wayne residents who are at least
70 years old and continue to volunteer throughout the
community. Nomination forms are available at Wayne
City Hall, Wayne Public Library and HYPE Recreation
The recipient will be recognized at a dinner in their
honor onTuesday, Sept. 18 andwill receive an engraved
plaque and $75 from theWayneDiary Queen. Following
the dinner, the award-winner will attend theWayne City
Council meeting where they will be presented with a
Nomination forms must be submitted to the Wayne
Senior Services Office, located in theHYPERecreation
Center, 4635HoweRoadbyTuesday, Aug. 14.
For more information call Senior Services Director
Nancy Wojewski-Noel, (734)721-7460 during office
hours, 9:30 a.m. until 1:30 p.m. Tuesday, Wednesday and
'Diamond' nominees sought