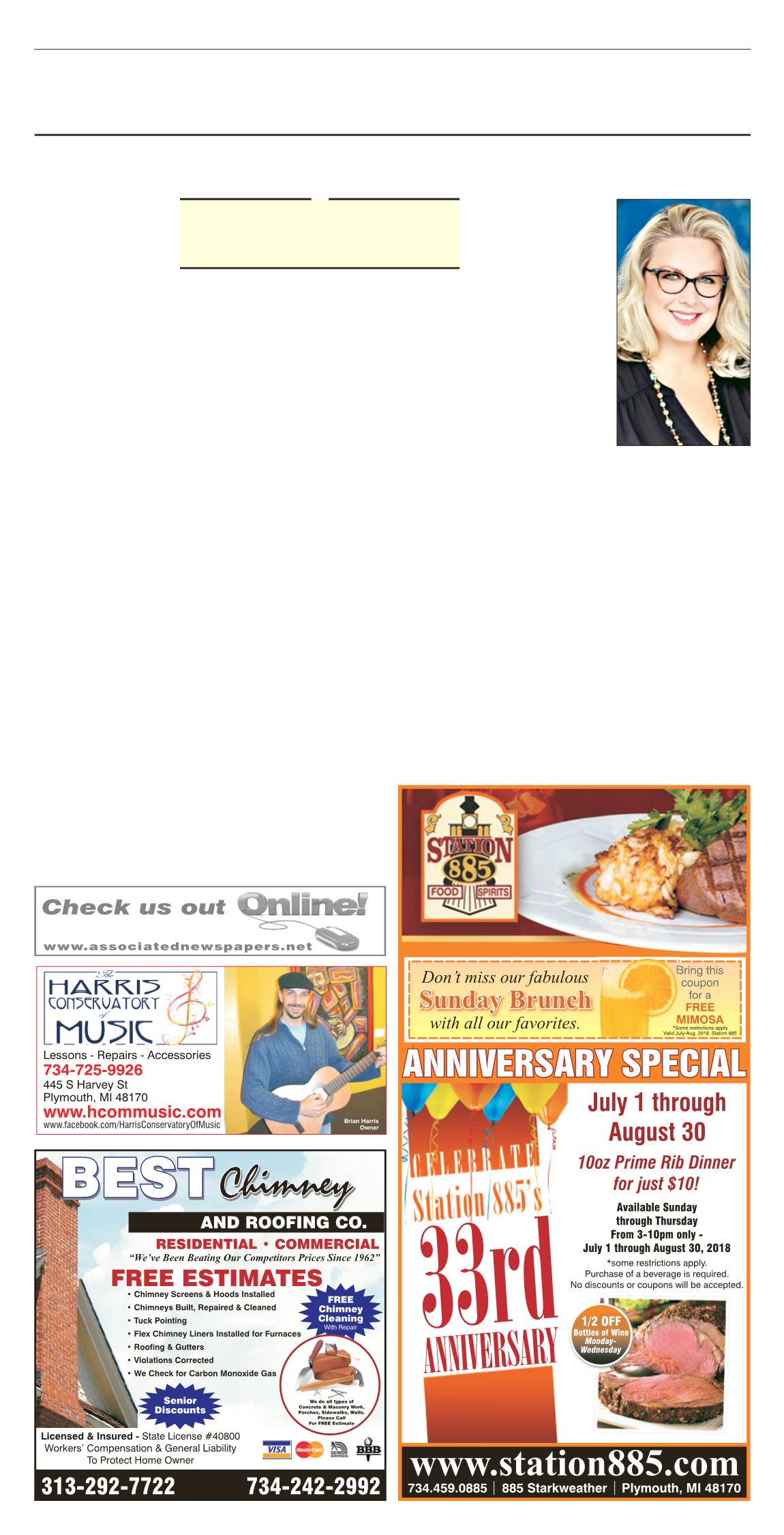 The new owner of the entire
Five Points corner is the City of
Members of the city council
voted unanimously to exercise
the option to buy the land, for
sale by Wayne County for back
taxes. Under Michigan law, the
county can foreclose on land
when taxes remain unpaid for
The county then offered the
land for sale and the local
municipality has the right of
first refusal to buy, followed by
the county and then the state. If
none of those entities purchases
the land, it is offered at a public
auction in an effort to recoup
Belleville officials immedi-
ately opted to purchase the land
located at 25 East Huron River
Dr. for $15,221.60 and 51 East
Huron River Dr. for the price of
When the sale is complete,
the city will own the entire Five
One of the parcels, at 25 East
Huron River Dr., is a .192-acre
site which formerly housed the
Huron River Market, a 6,415
square-foot building. The build-
ing was originally constructed
in 1946, according to official
records. The property at 51 East
Huron River Dr., at the corner
of North Liberty Street, is
$18,647.36 will be paid from city
budget general fund equity
which has a balance of about $2
million, according to Mayor Pro
long an advocate of moving City
Hall from Five Points to a new
location and realizing the profit
from the sale of the current site
said the council would "be fool-
Kollmeyer commented that the
addition of the two parcels now
makes the site even more desir-
able to a potential purchaser or
The city officials did reject
the purchase of two other resi-
dential properties in the city
which will now be subject to
foreclosure sales if also reject-
edby the county and state.
Canton Township Recreation
and Cultural Arts Supervisor
Jennifer Provenzano was recent-
ly elected to the state mParks
Provenzano will serve as mParks
president-elect on the mParks
board of directors, a group
responsible for leading and gov-
erning the state recreation and
park advocacy association.
mParks provides resources and
professional development oppor-
tunities to a diverse membership
of park and recreation agencies,
professionals, vendors, and advo-
cates, according to a spokesman.
Provenzano will join a board
of seven members, five of whom
are elected by the membership
and two who are appointed by
approval of the trustees.
"Jennifer's abilities, back-
ground, and relationships have
made her an ideal candidate to
share her strong leadership skills
on the state level," said Greg
Hohenberger, Canton Leisure
Services director. "Her expertise
and passion for the industry will
surely help mParks advance its
goals and initiatives in the com-
Since 2002, Provenzano has
worked in a variety of parks and
recreation capacities with
Canton Leisure Services, and as
recreation and cultural arts
supervisor currently oversees
the township recreation pro-
gramming division, as well as
The Village Theater at Cherry
Hill. In her tenure with Canton
Township, she has been respon-
sible for helping to develop a
number of award-winning out-
reach, arts, therapeutic recre-
ation, leadership, youth, and
serves on the Annual Liberty
Fest planning committee and
operates as a staff liaison for the
Canton Commission for Culture,
Arts, and Heritage, as well as the
Celebration committee. To date,
she said she is most proud of her
work in community outreach,
grant-writing, and ongoing efforts
to further promote diversity and
recently served as chair of the
Student Development Focus
Area, and is one of the founders
of the state association new
WIRED Initiative - (Women in
Development). In addition, she
also serves on the planning com-
mittee for the mPark annual con-
Provenzano is a graduate of
Central Michigan University. In
addition, she is a Certified Park
and Recreation Professionals
(CPRP), overseen by theNational
Certification Board (NCB) and
the National Recreation and
Park Association (NRPA). This
CPRP certification is granted to
individuals employed in the
recreation, park resources and
leisure services professions who
meet the eligibility requirements
- including a combination of
higher education and/or work
experience - and who successful-
ly complete the national CPRP
Nick, and son, Leo, currently
Founded in 1935, mParks was
established to provide its mem-
bers with industry resources, to
advocate for the profession, and
to prove parks, recreation, and
leisure services matter. For more
information about mParks, visit
Canton Leisure Services cur-
rently maintains 10 parks and 35
public buildings on sites covering
more than 1300 acres for Canton
Township, as well as develops
and implements recreational
programming and services for
individuals of all ages and abili-
ties. Canton Leisure Services has
also joined the ranks of the elite
park and recreation departments
across the country by earning re-
accreditation in 2013 through the
Commission for Accreditation of
Park and Recreation Agencies
Recreation and Park Association
remains one of 163 agencies in
the country currently holding
national accreditation and is one
of only four CAPRA accredited
agencies in the state of Michigan.
For additional information about
Canton Leisure Services, visit
Church to host blood drive
City of Belleville buys Five Points sites at tax sale
Jennifer's abilities, background, and relationships
have made her an ideal candidate to share
her strong leadership skills on the state level.
Canton recreation official named to state board
An American Red Cross Blood Drive
is planned from 1-7 p.m. Thursday, Aug.
16 at Trinity Episcopal Church in
The church is located at 11575
Belleville Road, opposite Burger King
To make an appointment, visit red-
crossblood.org and enter sponsor code
bellevilleloop, or call (734) 270-2321.