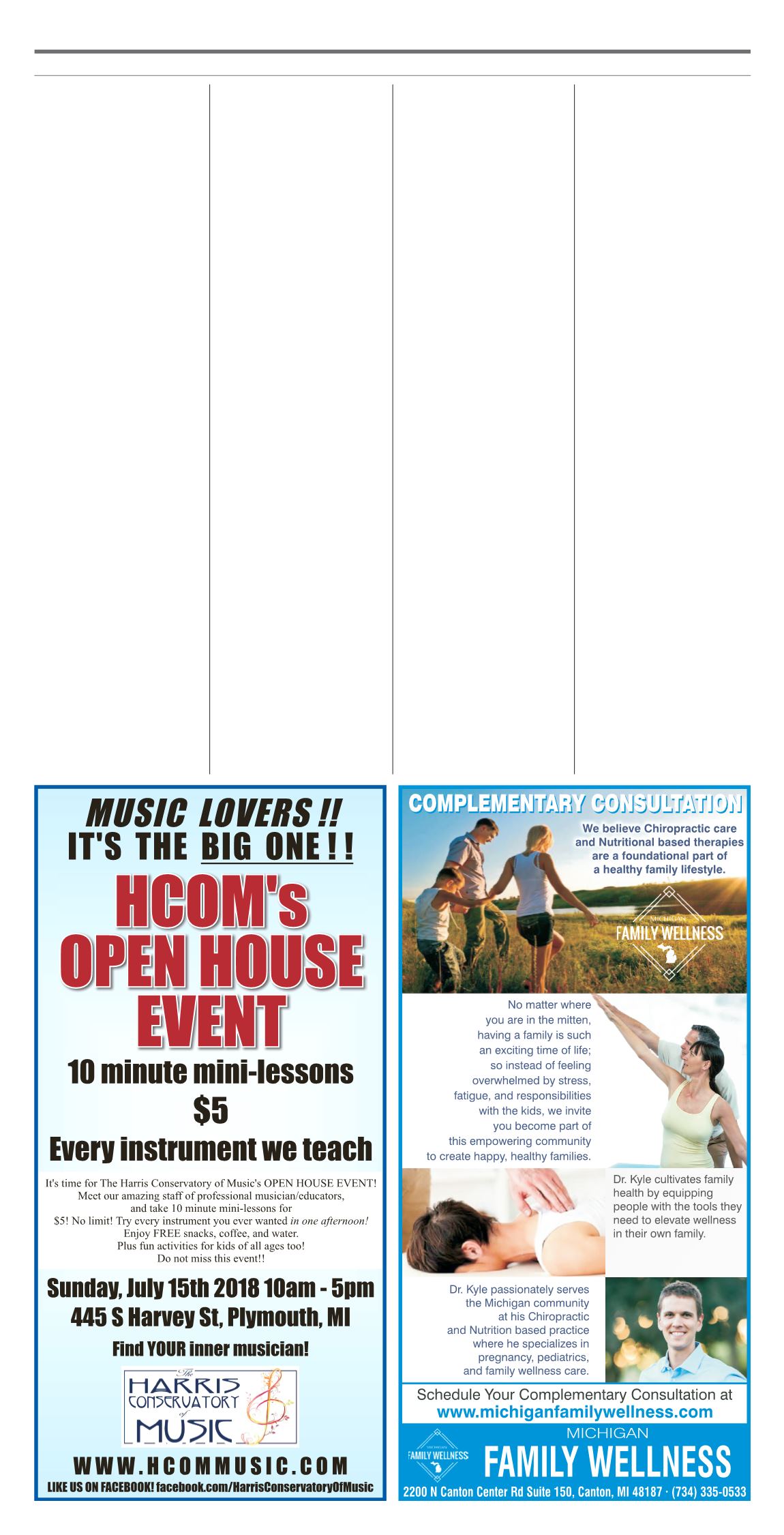 Life Line screenings offered
Residents living in and around the
Romulus can learn about their risk for car-
diovascular disease, osteoporosis, diabetes,
and other chronic, serious conditions with
affordable screenings by Life Line
Screening. Romulus Senior Center will
host this community event on July 23 at the
center, 36525Bibbins St. inRomulus.
Screenings can check for the level of
plaque buildup in arteries, related to risk
for heart disease, stroke and overall vascu-
lar health; HDL and LDL cholesterol lev-
els; diabetes risk; bone density as a risk for
possible osteoporosis along with kidney
Screenings are accessible for wheel-
chairs and those with trouble walking.
Free parking is also available.
Packages start at $149, but consultants
will work with patients to create a package
based on individual age and risk factors. A
Wellness Gold Membership Program
which allows customers to get all the
screenings they need, but pay $19.95 a
month is also available. Call 1-877-237-1287
registration is required.
Summer music series begins
Music Lakeside, a free summer music
series sponsored by the Belleville Area
Council for the Arts, will present entertain-
ment every Thursday evening throughAug.
16. The concerts will take place in Horizon
Park on High Street in Belleville and will
feature musical entertainment by the
Visitors should bring lawn chairs, blan-
kets, or arrive by boat. Food is available
this year from Cosa Sabrosa, a new addi-
tion, featuring fresh tacos, burritos, salsas
and much more. Also returning will be
Egan's Pub andTheGelatoWagon.
In case of rain, concerts will be moved
tot theMethodist Churchacross the street.
Mr. B. will performin concert Aug. 16.
Annual camp-out is Friday
One of the favorite family traditions in
Canton, the Canton Leisure Services
Annual Family Camp-out and Movie Night
will take place tomorrow, Friday, July 13,
featuring the animated movie "Moana,"
Families are invited to celebrate the
great outdoors and set up tents on the
north side of Heritage Park near the pavil-
ions. There will be plenty of activities for
the entire family beginning at 6 p.m.
including: inflatable bouncers; s'moremak-
ing; family games and more. Face painting
will be available for a nominal fee. Crusin'
Custom Coneys will also be on site provid-
ing a dinner option for a nominal fee. In
the event of inclement weather, the movie
may be suspended or cancelled. A grand
prize will also be awarded to the best deco-
ratedHawaiian-themed campsite.
Once again, campers and RVs will be
allowed to participate; however, no elec-
tricity will be available. Set-up of tents and
campers will begin at noon Friday. No
advance reservation is necessary and the
$21 camping fee will be collected on-site
the day of the event; cashonly.
Those wishing to take part in the activi-
ties and movie but not interested in camp-
ing-out, can purchasewristbands for $6 per
For more information, call (734) 394-
Free teen safety seminar set
TheCantonPublic SafetyDepartment is
partneringwithCantonLeisureServices
to present a Personal Safety for Your
Teen and College-Bound Student seminar
from9:30-11:30 a.m. Saturday, July 21.
The special presentation will take place
at the Summit on the Park, 46000 Summit
This free seminar is open to partici-
pants 14 years of age and older who will
learn some basic lifeskills that will help
them make the transition into adulthood,
be it in dorm life or as a high school stu-
Participants will also see a demonstra-
tion of simple self-defense techniques pre-
sented by instructors from The American
Topics presented during this seminar
include: dorm room safety; social media
dangers; the importance of knowing your
surroundings and how to be a good wit-
ness; as well as what to do if you fall victim
There is no cost for this seminar, howev-
er registration is encouraged. Sign up
For additional information or to register
Area residents are invited to attend the
Fifth Annual Rally on Ridge from 5:30
until 9 p.m. July 21 in the Cherry Hill
Village District and also at Preservation
Park, located at 500N. RidgeRoad.
The rally is an evening of food, fun,
music, and more to benefit the Canton
Farmers Market. This special fundraiser
will feature several popular gourmet food
trucks, live local musicians, and a 21 and
over beer garden. This year, the major
event sponsor isEdward Jones.
Circles of HopeCamp opens
NewHope Center for Grief Support will
host Circles of Hope Camp from 10 a.m.
until 4 p.m. July 26 and 27 at Maybury
The free grief camp is designed for chil-
dren ages 5-14 who have los a loved one.
The camp will teach children how animals
can help one cope with loss, connect with
others and remain calm in situations.
There will be barn and garden tours, crafts
Registration is required at (248) 348-
Senior games registration opens
Awide variety of events has been sched-
uled for senior citizens interested in com-
peting in the Third Annual Canton Senior
Games, which are scheduled to take place
Aug. 20-23. Canton Club 55+ will offer a
variety of events inwhich seniorsmay com-
pete in for a nominal fee for a chance to
win in their age category.
Events include:Sports Tournaments
(golf, Pickleball, tennis, billiards),
Cards/Wii Games (Euchre, Pinochle, Will
bowling, trivia), andFieldGames (bean bag
toss, Bocce ball, softball throw, basketball
shot, football toss and ring toss).
Competitions will take place throughout
Canton at: Pheasant Run Golf Club,
Summit on the Park, Heritage Park,
Freedom Park and Griffin Park.
Registration is now open online at
additional information, call the Canton
Club 55+ front desk at (734) 394-5485.
Old Glory Flags and Flagpoles and
Canton Leisure Services have joined
forces to host "The Lynn M. Bentley
Memorial Walk, Talk and Yoga Event To
Benefit The Wounded Warrior Project,"
with Dan Nevins beginning at 9 a.m.
This special fundraiser will take place
in Heritage Park, which is adjacent to the
Canton Administration Building, located at
1150 S. Canton Center Road. Participants
are asked to arrive by 8:30 a.m. for event
day check-in or registration.
This event will begin with a 1-mile
warm-up walk around the scenic ponds of
Heritage Park, which will lead into the
yoga session withNevins, who has traveled
the globe teaching and sharing the healing
powers of yoga and purposeful thought.
After the walk, participants of all ages and
abilities can either choose to take part in
the yoga session or just have coffee and lis-
All proceeds from this event will go to
benefit Wounded Warrior Project. Tickets
are currently on sale now at
fun.org; searchDanNevins. Tickets are $25
the week of the event and $30 on-site the
day of the event. Participants will receive a
tax statement at the end of 2018 stating the
portion of the donation that is tax
deductible. Veterans will receive free
Learn more about Nevins at
For additional information about the
"LynnM. Bentley Memorial Walk, Talk and
Yoga Event To Benefit The Wounded
Basketball camp applications due
Henry 'Hank' Hughes will be honored
during the 21st Annual Inkster Legends
Basketball Comp which will take place
Friday, Aug. 4 and Saturday, Aug. 5 this
Applications for the camp are due by
July 15, notedDirectorFredSmiley.
The camps are for boys and girls ages 9-
16 and are divided into age groups for bas-
ketball coaching. Classes for students ages
9-12 begin at 7:30 a.m. and classes for stu-
dents ages 13-16 begin at 12:30. Al the class-
es take place at the Booker Dozier
Recreational Complex, 2025 Middlebelt
Parents or guardians are required for
all transportation for students. Morning
session pick up is at 12:30 p.m. and after-
noonpickup is set at 5 p.m.
The classes re free and teachbasic skills
and fundamentals of basketball including
shooting, passing, rebounding anddefense.
For more information, contact Smiley at
Community Band sets concert
The Belleville Community Band will
present a free concert at 7:30 p.m. July 28 at
BellevilleFirst UnitedMethodist Church.
The church is located at 417 Charles St.