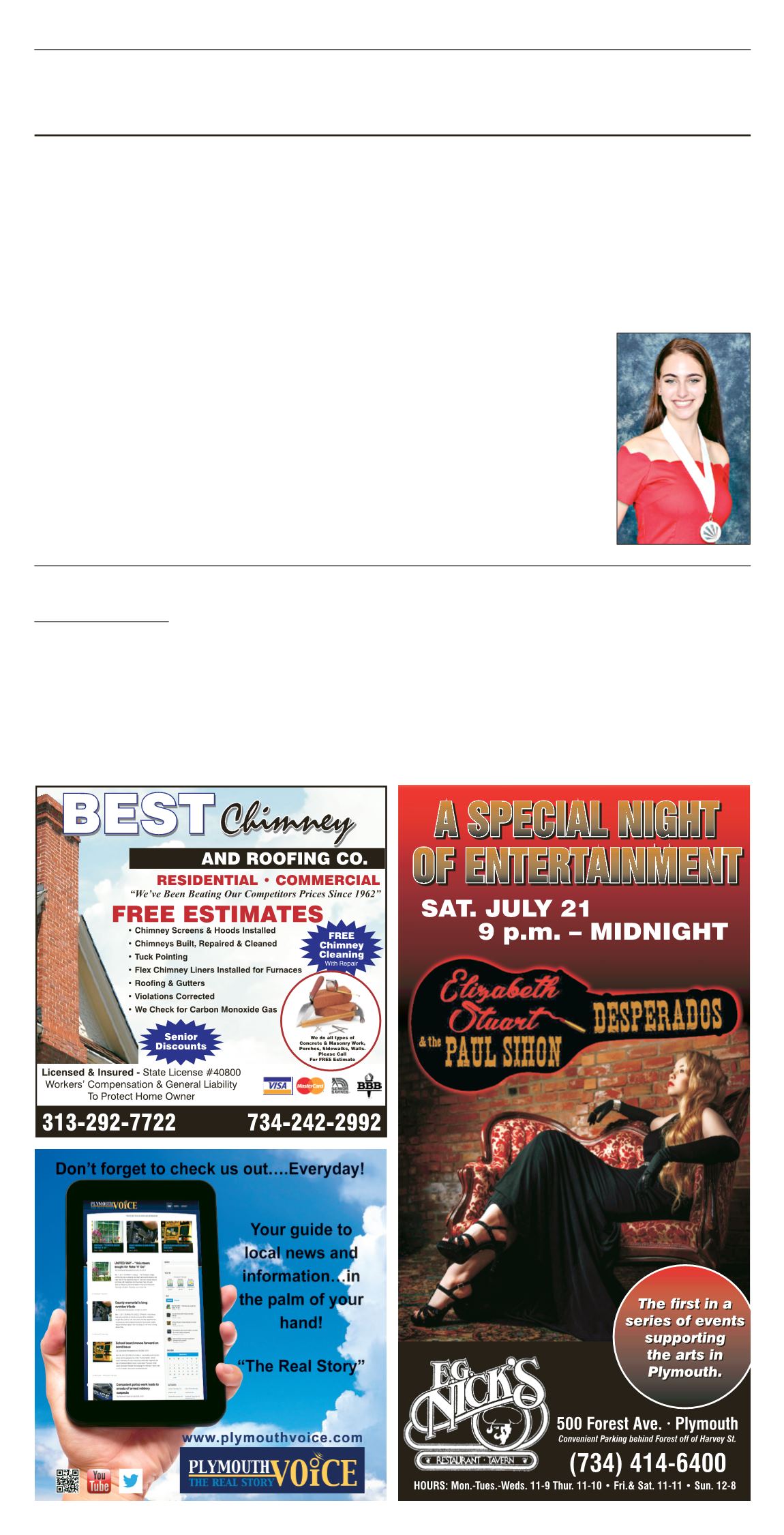 Inkster joins National Night Out event
Distinguished Young Woman to be crowned
Inkster residents have been
Department will be among law
enforcement agencies through-
out the country who will partici-
pate in the National Night Out
this year. The national event is
an effort to forge relationships
between police officers and the
residents they serve, according
This year, Inkster police offi-
cers and residents can celebrate
from 5 until 9 p.m. in the Inkster
Police Department Parking Lot,
26279MichiganAve. in Inkster.
The event is free and will
include food and beverages, face
painting, bounce houses, games
for all ages, Karaoke, music,
giveaways, public safety informa-
tion and a special guest appear-
More than 30 local Inkster
community organizations will be
giving away items during the
family-friendly event, including
Operation Refuge; Western
Wayne Family Health Centers;
Believe; Bounce Town; Three
Amigos Construction; Inkster
Episcopal Church; Oak St.
Society; Beaumont Teen Health
Center, One Mission Church;
Powerful); Inkster Community
Block Club; Stardust Lounge;
Blessed Crochet and More; Low
14 Films; Inkster Citizens Who
Academy; Zeta Amicae Aux and
Creating Lasting Memories
This is the 35th anniversary of
theNational Night Out event.
For more information about
organization participation, con-
tact Ofc. Lebo at (313) 400-5387
Michigan Scholarship Program
will take place at 6 p.m. July 21,
at The Village Theater at Cherry
Hill, located at 50400 Cherry Hill
Road in Canton. This scholar-
ship program promotes academ-
ics, leadership, and talent and is
open to high school junior young
women graduating in 2019.
Distinguished Young Women
is a national scholarship pro-
gram that inspires high school
women to develop their full, indi-
vidual potential through a fun,
transformative experience that
culminates in a celebratory
showcase of their accomplish-
ments, according to a spokesper-
Distinguished Young Women
program strives to give every
young woman the opportunity to
further her education and pre-
pare for a successful future.
Contestants will be performing
an opening number, physical fit-
ness routine, and a performing
This program awards college
scholarships to young women
who have distinguished them-
selves at school and in their com-
munities. Contestants will be
achievement, talent, self-expres-
sion, physical fitness, and inter-
view. Last year more than $7,000
in cash scholarships were award-
ed at the state program along
with numerous college-granted
scholarships. The Distinguished
Young Woman of Michigan 2019
will be selected and will go on to
represent the State of Michigan
at the Distinguished Young
Mobile, AL as well as at commu-
nity events throughout the state.
Tickets for this event are
available by going to The Village
Theatre at Cherry Hill website at
and clicking on See a Show.
Tickets are $20 for adults, $18 for
children and senior citizens. All
Distinguished Young Women of
Michigan Scholarship Program.
For more information visit
guishedyw.org. For additional
information about The Village
Theater at Cherry Hill, visit
Melanie Taylor 2018 winner
The popular fiction Harry
Potter series is available in
Spanish. Visnaw said the diverse
Canton population prompted
bilingual storytimes which are
offered in languages such as
Arabic, Italian andFrench.
The 400 nonfiction section of
helps English language learners
with such things as what's a noun
or a verb, "how do you put those
things together?" he said.
The library, which also helps
adult English as a second lan-
guage learners, offers electronic
resources to help new arrivals
learn English. The adult conver-
sation group for ESL is popular,
"and then they can take that
learning home with them and
share it with their kids," Visnaw
website offers a program calen-
"I really like it," the librarian
said. "It's laid out like a calen-
dar," and is supplemented by an
email newsletter sentmonthly.
"We're never assigning you
anything," said Visnaw, who
agrees public libraries supple-
ment K-12 schools well. "We are
excited to share wonderful titles,
Some young people research
an individual and may dress up
in a costume. Some pose in a
"It's such fun," Visnaw said,
"to work with them. We can kind
of enhance the fun side of discov-
many others in also being a great
homework resource: "Our staff is
very enthusiastic about that
process of discovering new
bridge cultures. Visnaw recently
read one of attending a British
boarding school and as a public
school graduate learned fromit.
"It helps put you in the place
of somebody else. It kind of helps
sharing cultures over the world,"
he said. Books can also transport
you to another place or time.
Youth librarians help through
their extensive training in early
literacy. Parents and other adults
even if busy can read before bed-
time "or something that becomes
a pattern. Maybe you do 20 min-
The Read Aloud 15 Minutes
helps parents with early learn-
ing. "You don't have to spend a
ton of time reading. It becomes a
regular thing," Visnaw said. The
Read Aloud 15 Minutes is for
children frombirth to age 8.
Visnaw also encourages par-
ents to let children pick their
own library selections and ask
what they think about those.
"Reading is a fun, enjoyable
experience. They're not two sep-
arate things. Reading is fun.
Learning new things is fun."
More information is available