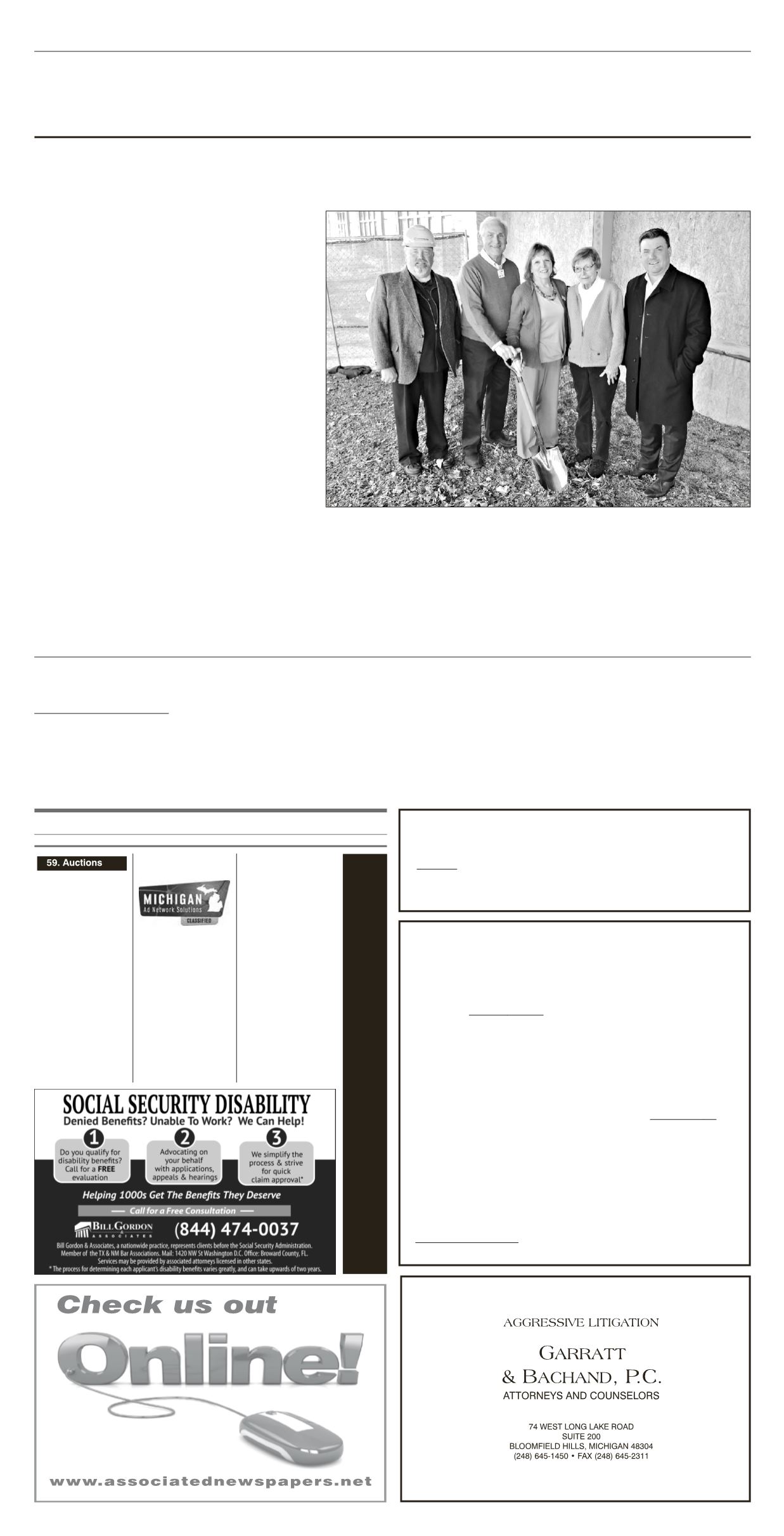 Galvalume Steel-19 Colors-
Michigan-Call Today 1-800-
CA$H for R12 cylinders or
cases of cans. (312) 291-
Gibson, Fender, Martin and
amplifiers also. Call toll
To subscribe to The Eagle call 734-467-1900.
TO PLACE YOUR CLASSIFIED AD CALL 734-467-1900
CHARTER TOWNSHIP OF PLYMOUTH
The Charter Township of Plymouth is accepting sealed proposals for the provision of EMERGENCY MEDICAL SERVICES.
Sealed proposals are due by 4:00 PM on Friday, August 31, 2018, at which time all proposals will be opened and read. Original
specifications and any subsequent addendum can be obtained at the Michigan Intergovernmental Trade Network (MITN) web-
Charter Township of Plymouth
PT0198 - 071218 2.5 x 1.516
CITY OF ROMULUS INVITATION TO BID
ITB 18/19-04 HARDWOOD FLOOR REFINISHING
AT THE ROMULUS ATHLETIC CENTER
The City of Romulus, Michigan is seeking bids from qualified companies
for the refinishing of hardwood floors at the Romulus Athletic Center.
(1) Qualified individuals and firms wishing to submit a bid must use the forms provided by the City.
Official bid forms and specifications may be obtained from the MITN Purchasing Group page of
/). Bids may be rejected unless made on the forms includ-
ed with the bidding documents. Copies of documents obtained from any other source are not con-
(2) Clarifications, modifications, or amendments may be made to this solicitation at the discretion of
the City. Any and all addenda issued by the City will be posted on the MITN Purchasing Group
page of BidNet Direct. All interested parties are instructed to view the MITN website regularly
for any issued addenda. It is the responsibility of the bidder to obtain all issued addenda and
acknowledge receipt of said addenda by including a printed copy of each addendum as part of
the required documents for this solicitation and to list the addendum and sign and date the
"Acknowledgment of Receipt Addenda Form: supplied in the bid documents.
(3) A total of three copies (one marked "Original" and two marked "Copy") of the bid must be sub-
mitted together in one sealed package/envelope and returned to the
than 2:30 P.M., Wednesday,
. Bids should be addressed using the bid package label pro-
vided in the ITB documents.
(4) At approximately 2:45 p.m., local time all timely received bids will be publicly opened and read.
(5) The successful Bidder will be required to submit proof of all bonds and insurance required by the
ITB documents and copies of all required endorsements.
(6) The City reserves the right to postpone the opening without notification and also reserves the
right to reject all bids and to waive any minor informality or irregularity in bids received and to
award the bid in whole or in part. A contract will ultimately be awarded to the lowest most
responsive and responsible company, as determined in the sole discretion of the City of Romulus
or otherwise in a manner deemed by the City to be in its own best interest.
(7) For additional information contact Lynn A, Conway, City of Romulus, Purchasing Director, or
Gary Harris, Purchasing Department Buyer by calling (734) 955-4568 or by emailing
RM0316 - 070518 2.5 x 5.066
Library is adding a new chapter
to the services and facilities at
the 22-year-old building down-
A new 800-square-foot addi-
tion to the existing library is cur-
rently under construction, and
will feature a new conference
room and four additional study
rooms for groups or individuals.
Funding for the expansion came
partly from the 2018-2019 state
budget recently approved in
State Rep. Jeff Noble recently
helped secure the special state
funding for both the Northville
and Plymouth district libraries.
Both libraries proposed projects
that would directly impact edu-
cation, business development
"This is all about bringing our
tax dollars back home to improve
our economy and educational
opportunities for children in our
communities," explained Noble.
"Overall, this budget does not
grow state government - great
news for taxpayers. And even
better news, the money the state
does spend will go where it does
the most good - including right
The state funding will provide
funds for the cost of the construc-
tion and the furniture require-
Demand for meeting space by
homeowners' associations, Scout
troops, local organizations and
small business owners has
steadily increased over the years,
and the new conference room
will help alleviate this need, a
Northville library spokesperson
said. The new room will feature
an 80-inch LED TV, five laptops,
equipment, the Northville
library can expand demonstra-
tions and classes to help our
users become more tech savvy
and knowledgeable about online
The additional study rooms
bring the total of private study
spaces to six -- two large rooms
that can accommodate up to
eight people, and four small
rooms for one-four people.
Study rooms are in continual use
year round by students, tutors
and researchers. The new study
rooms will open in late summer,
with the conference room avail-
able by mid-September. A public
ribbon-cutting ceremony is
planned for fall, she said.
Updates on the construction are
brary.org>ConstructionBlog.
The state funding will allow
the Plymouth library will allow
students of all ages the opportu-
nity to improve computer skill
sets, complete school assign-
ments and create and edit video.
New offerings will include
upgraded public computers to
Creative Cloud Suite, a powerful
graphic and video creation soft-
ware product. A new graphics
printer will also provide large-
scale, high-quality printing. An
updated lab with Creative Cloud
software will be available this
fall. A library staffer said. An
unveiling of the new lab and a
ribbon-cutting will be scheduled
The state funding also con-
tributed toward tech upgrades to
the Plymouth Library infrastruc-
ture, to include a building-wide
fiber core, wireless access points,
switches, and patch panels,
which will all contribute to
expanded, faster network capa-
bilities in the building. Go to ply-
uthDistrictLibrary/ for updates
annual payments to the town-
ship until all resolved obliga-
tions were met for a group of
"over two dozen" employees.
reported they felt the city obli-
gationwas closer to $1.5million.
In January, it appeared the
members of the city commission
approved a Tolling Agreement
to provide for a settlement with-
out litigation or admission of
fault or wrongdoing and barred
an end of possible litigation due
to the statue of limitation rule.
At the May 22 board of trustees
meeting, Supervisor Kurt Heise
announced that the city com-
mission had accepted the $1.1
million settlement counter-
offer. The offer was $400,000
less than the previously report-
ed settlement obligation esti-
Township officials said it was
in the interim period that talks
Last Monday, Plymouth City
Commissioners unanimously
approved a $1.1 million settle-
Township that resolved any
past, present and future pen-
sion costs related issues to the
approved the funding for the
payment to Plymouth Township
utilizing internal loans from the
city Waste and Recycling Fund
Stabilization Fund ($550,000.) to
be repaid over a 10-year period.
Heise was jubilant after learn-
ing of the settlement ratifica-
"This closes a bitter chapter
in the history our two communi-
ties…The Plymouth community
is united and moving forward
for our residents and visitors.
This is what culture change
Local libraries receive state funds
Northville District Library trustees Robert Sochacki, Alan Somershoe, Jean Hansen, and Joseph
Corriveau break ground on the new addition, along with Library Director Anne Mannisto (center).