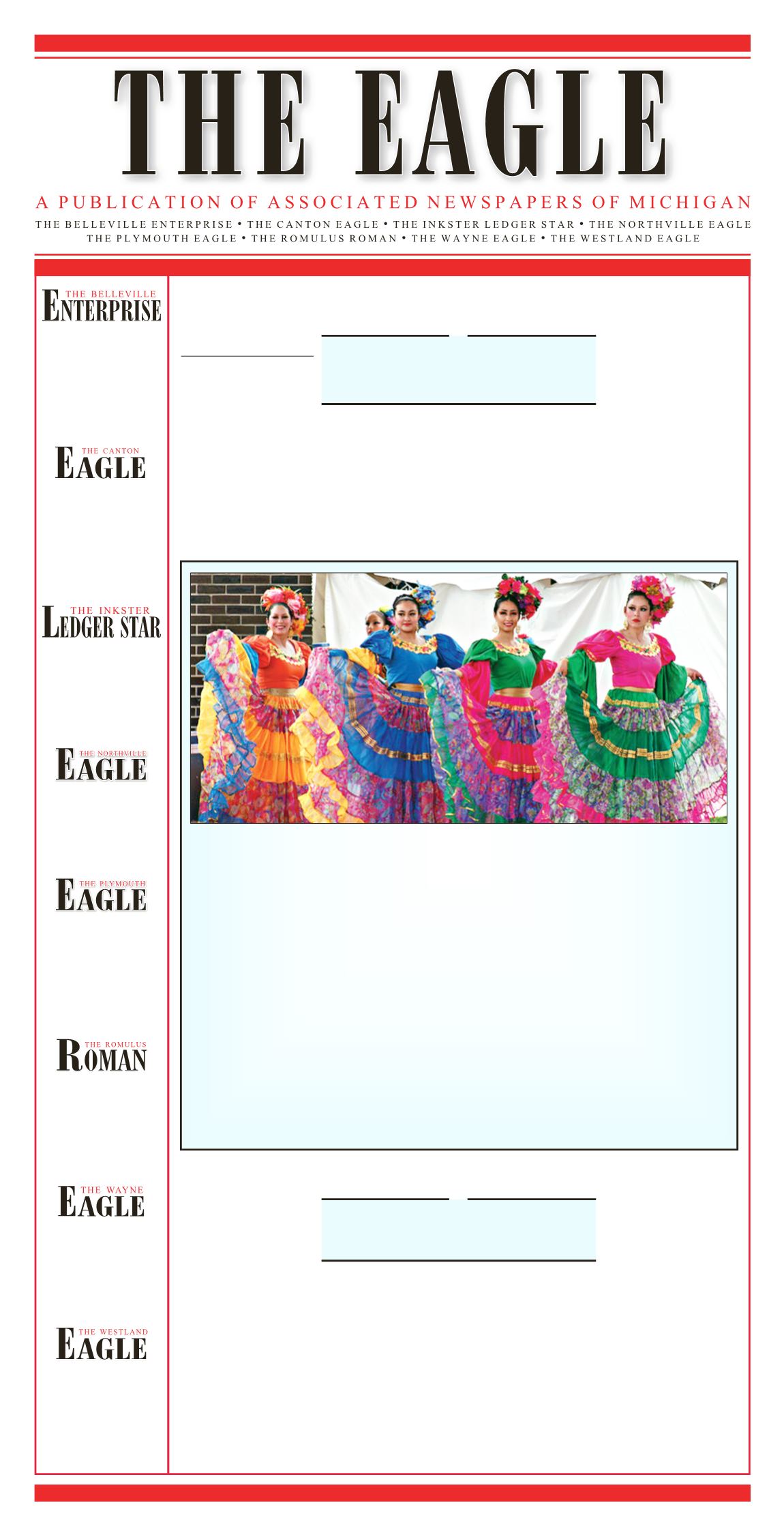 NEWS YOU CAN USE, NEWS YOU CAN TRUST
w w w . a s s o c i a t e d n e w s p a p e r s . n e t
Donors, stakeholders, and
officials for the official open-
ing of Derby's Alley last
Elementary School present-
ed funds collected from a
Read-A-Thon to Cindy Kern,
Market will open for the sea-
son from 11 a.m. to 4 p.m.
Wednesday, June 13, at the
For home delivery of The Eagle call 734-467-1900.
currently seeking applicants
to fill vacant positions on the
Canton Liberty Fest is set
will include 5K, 10K, and 1-
Mile events, in collaboration
be honored during the 21st
Basketball Camp which will
take place Friday, Aug. 4 and
Saturday, Aug. 5 this year.
emphasize the need for both
whole blood donations and
platelets is constant and
donations can mean the dif-
Buren Public Schools Board
$650,817.42 to purchase com-
puter devices for all stu-
Don Soenen, president of the
Plymouth Arts & Recreation
Complex project, continues to
advocate for a Nov. 6 vote in
Township to approve a millage
to support the conversion of the
former Central Middle School
into a public use facility. Private
donations and fundraising
effortswill be combinedwith tax
money to complete the 3-year
renovation project. Costs are
estimated at $30 million, $6 mil-
lion of which has been raised
"inprivate funds," Soenen said.
A taxing authority is being
formed thismonth for funding of
the facility at 650 Church St.
Soenen called the City of
Township agreement "really a
major step forward in the devel-
Authority of the city and town-
ship means "The two entities
had to come together and agree
on the language," he said. It is
Township Board of Trustees
approval. After ballot language
is agreed onWayne County must
Soenen expects formation of
a seven-person board on the
emphasizes themillage wouldn't
exceed .75 mills "to fund the
bond issue for 20 years."
It's about $95 a year for an
average homeowner, he said.
"My sense is that they are
(supportive). People see value in
what we're doing. But you never
know until the election is held,"
Soenen said. He notes potential
alternatives including commer-
"There's the potential for this
site to be developed," he said.
Soenen noted staff, parking and
other amenities are in place,
greatly reducing the costs.
People see value in what we're doing.
until the election is held.
PARC president advocates millage vote
Romulus officials are going
back to the drawing board to
come up with a plan for the
largest non-developed parcel of
Members of the city council
and planning commission met in
a joint study session recently to
discuss a strategic plan for the
District, which is about 1,000
acres of vacant land near I-94 and
Vining roads. Over the years, it
has been the reported location of
a racetrack, entertainment com-
plex and, most recently, a region-
al outlet mall. All of those proj-
ects, for one reason or another,
"For years, we've been getting
these big projects, but nothing
has really landed," said Tim
Keyes, economic development
director for Romulus. "We want-
ed to them to take a look at this
and give us the reasons why
opportunities for growth haven't
happened and develop a strategy
to attract new business. We want
to create a strategy to move for-
The city is teaming up with
Thomas Miller & Associates to
develop a plan to zone the land
for its best use and market it to
the business community. The
overall goals of the development
would be to grow new industry,
increase economic resiliency,
improve collaboration with the
airport and strengthen residen-
In the past, city leaders have
sought to create regional enter-
tainment uses for the site, such as
the race track, but representa-
tives from Thomas Miller said
that might have been putting the
cart before the proverbial horse.
Their suggestion was to seek the
businesses and residential first,
so that any entertainment compo-
nent would be sustainable when
According to the plan, the tar-
get industries include: advanced
manufacturing; transportation,
distribution and logistics; and
office uses, such as financial serv-
ices or professional scientific
cerned that the plan have a bal-
ance of those uses, and not be
overly dependent on any one.
"I'd like to see more research
and development," said Planning
Commissioner Mike Glotfelty.
"We leanheavily on trucking right
now. It's something we have to
watchand keepunder control."
The council and commission
directed the consultants to work
on a plan in a way that would
develop the land for its best use
for tax base, keeping aesthetics of
any development inmind, as well
as keeping truck traffic down to a
minimum. The finalized plan will
be presented later this year.
strategy to move forward.
The traditional International Festival
will again take place during Canton
Liberty Fest this year. The highly-antici-
pated celebration of diversity will
include a variety of cultures fromaround
the world from 11:30 a.m. until 6 p.m.
Saturday, June 16, on the Canton LIVE!
Canton Liberty Festival takes place
this year June 14, 15, and 16 in Heritage
Park, behind the Canton Township
Administration Building on Canton
Festival-goers are encouraged to stop
by the Canton LIVE! Stage on Saturday
to enjoy free performances in Heritage
Park that communicate across cultural
and linguistic barriers from countries
across the globe, including: China, India,
Italy, Mexico, Tahiti, the United States,
New Zealand, as well as cultural offer-
ings, such as African American and
"Arts lovers look forward to our annu-
al International Festival, which provides
a unique opportunity for audience mem-
bers to experience music and dance
from around the globe all in one loca-
tion," said Canton Performing Arts
Coordinator Joe Kvoriak. "Audience
members of all ages will be delighted as
the stage comes alive with colorful cos-
tuming and exotic instruments when
these talented individuals share their
heritage and some traditions that date
These performances, presentedby the
Canton Commission for Culture, Arts &
Heritage Multicultural Committee, are
This year, events will take place from
1-11 p.m. on Thursday, June 14 and
Friday, June 15 and from 10 a.m. until 11
p.m. on Saturday, June 16. Major spon-
sors for this annual community event,
include: American 1 Credit Union;
Atchinson Ford; Community Financial
Credit Union; The Goddard School of
Early Childhood Development; Sysco;
Todd Wenzel Automotive; Twisted
Rooster andTheVillageDentist.
Area residents are invited to come
and enjoy carnival rides, games and spe-
cial attractions. Visitors can purchase a
single-day wristband in advance and
save on tickets. Wristbands allow access
for one day only onto all carnival rides.
Discounted single-day wristbands are
nowavailable for $23 and can be used for
any full day if purchased at
libertyfest.com before noon June 14.
Mega Bands that are good for unlimited
rides for all three days can be purchased
for $60 online before noon June 14.
Online sales require a $.99 per transac-
tion fee. To purchase the wristbands,
wristbandswill be available for purchase
on-site for $27 on Thursday, $30 on
Friday, and $30 on Saturday. All sales are
final. For more information, call (734)
Liberty Fest includes international appeal
Romulus prepares new development plan