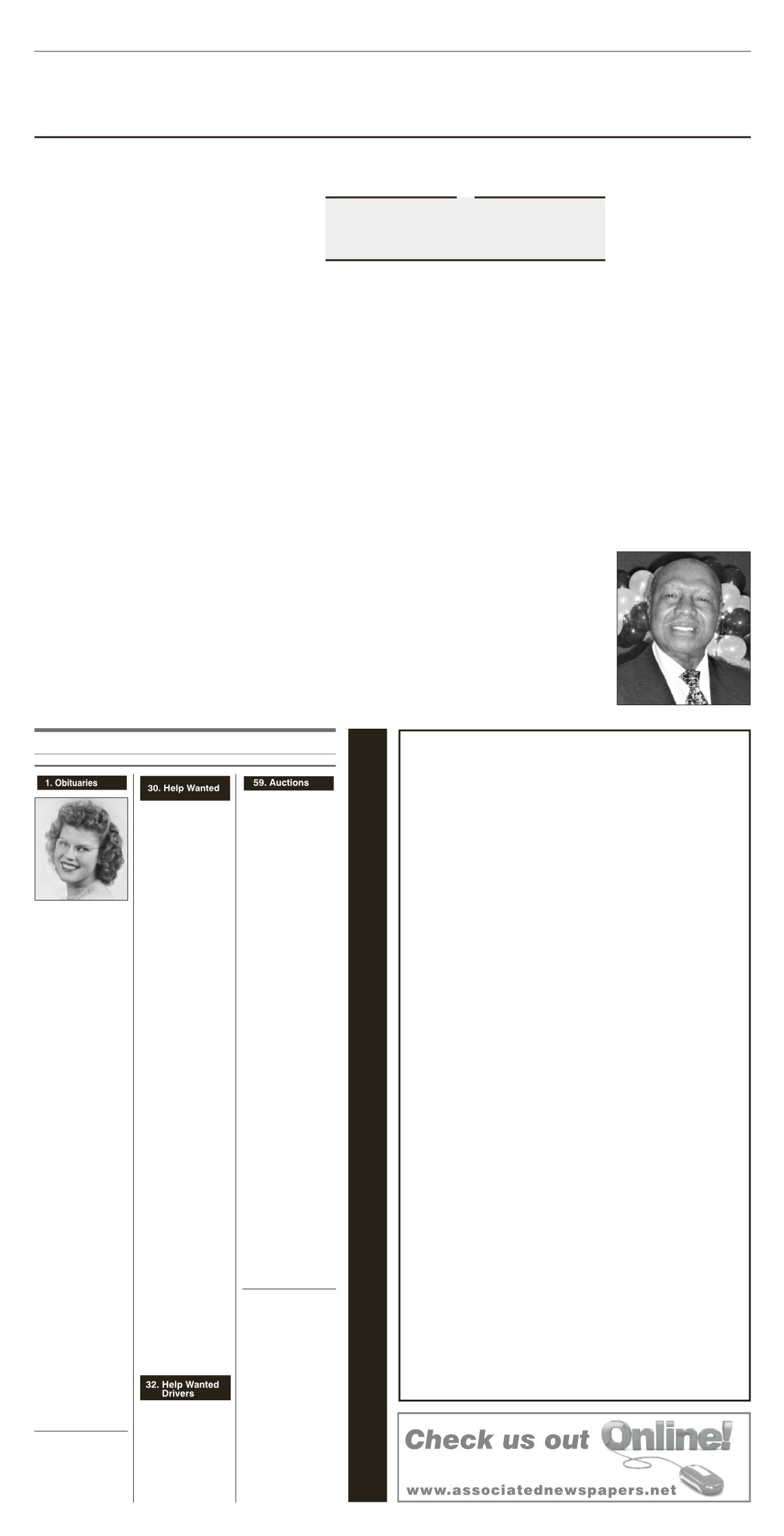 Doris Lucille Fisher, 91, of
June 12, 1926 in Romulus,
the daughter of Clair and
Mrs. Fisher retired as an
accountant from the City of
She loved her family, and
following all of their activi-
ties and enjoyed spending
FLA, and attending Vesper
Henry Fisher of Coldwater;
Coldwater and Patti (Rick)
Miller of Dayton, TN; six
Fisher, Melissa Fisher, Leah
Puckett, Laura (Ken) Oliver,
and Valerie (Josh) Floyd;
She was preceded in death
by her parents, and a sister
and brother-in-law, Donna
Following her wishes, cre-
mation rites were accorded
announced at a later time.
Burial will be at Fort Custer
The City of Westland shall
conduct Civil Service test-
ing to create a list of quali-
fied applicants for filling 2
well as future clerical posi-
ments: Certificate (25-48
credit hours resulting in
certificate), or Associate's
degree in accounting, busi-
ness, or office information
systems or computer tech-
nology/systems preferred,
or the equivalent education
Only those individuals who
Testing shall include written
prehensive benefits pack-
Civil Service Eligibility List,
applicant must successful-
ly pass Commission testing
and interview process. The
City will limit Civil Service
testing to the first fifty (50)
applicants, based on date
of application and resume
Qualified individuals must
submit a completed appli-
cation, their resume along
with three (3) references no
later than Friday, June 29,
Personnel, City Hall, City of
Road, Westland, MI 48185-
2016 or via email to per-
4:00 p.m., June 29, 2018 or
until such time 50 qualified
received, after which time
accepted. Application for
Driver: CDL-A. Get All The
Terminal Mgr. - True Driver
Advocate! Paid Vacation &
To subscribe to The Eagle call 734-467-1900.
TO PLACE YOUR CLASSIFIED AD CALL 734-467-1900
Westland seeking parks commission volunteers
CITY OF ROMULUS INVITATION TO BID
ITB 17-18-05 CDBG FIREHOUSE HAZARDOUS MATERIALABATEMENT
The City of Romulus, Michigan is seeking bids from qualified licensed contractors, registered with
the City of Romulus Building Department, for the licensed removal and proper disposal of all iden-
tified hazardous materials (hazardous materials and asbestos reports included) and for all of the
requested exterior improvements at 35255 Goddard Road, Romulus, Michigan 48174. The project
is CDBG funded (CDBG Contract 17-24-14E).
(1) Qualified individuals and firms wishing to submit a bid must use the forms provided by the City.
Bid forms, plans and specifications must be obtained through The MITN Purchasing Group Page
(2) Bid documents may be examined at the office of Community Development, City Hall, 11111
Wayne Road, Romulus, MI 48174, on or after 1:00 p.m. on 6/07/2018. Office hours are Monday
through Friday, 8:00 am to 4:00 pm excluding holidays.
(3) Amandatory Pre-Bid Conference will be conducted at 10:00 a.m., local time, on 6/18/2018 in the
City of Romulus Council Chambers located on the main floor of the Romulus City Hall, 11111
Wayne Road, Romulus, MI 48174. Following a brief introduction and opportunity for questions,
the meeting will continue with a viewing of the facility.
(4) A total of three copies (one marked "Original" and two marked "Copy") of the bid must be sub-
mitted together in one sealed package/envelope and returned to the City Clerk's Office no later
than 2:30 P.M, Wednesday, 07/11/2018. At approximately 2:45 p.m., local time all timely
received bids are to be publicly opened and read.
(5) All copies of the bid should be submitted in a single sealed envelope and addressed using the bid
label provided in the ITB documents.
(6) The City reserves the right to postpone the opening without notification and also reserves the
right to reject all bids and proposals and to waive irregularities.
(7) The project is a Community Development Block Grant (CDBG) funded project and subject to
Prevailing Wage Regulations as dictated by the Davis-Bacon Act and Section 3 requirement.
Construction work that is financed with Federal funds must adhere to certain Federal labor stan-
dards requirements. The project requires that workers receive no less than the prevailing wages
being paid for similar work in the same area. The contractor must ensure that employees and
applicants for employment are not discriminated against because of their race, color, religion, sex
or national origin, in accordance with Executive Order 11246 (Equal Employment Opportunity
and Notice of Requirement for Affirmative Action to ensure Equal Employment Opportunity),
and that the contractor will comply with Section 3 of the Housing and Urban Development Act
of 1968, as amended. Minority, female, and Section 3 contractors are specifically invited to bid
on this contract. The city also request general contractors to use minority, female, and Section 3
residents and subcontractors whenever possible. Contractor must comply with the Davis Bacon
Act, July 2, 1964, Title 40§ 276A, the Equal Employment Opportunity Act, September 28, 1965,
No 11246, all United States Department of Labor Regulations and Standards, Title 29, 1, 3, and
5, and Title 18 U.S.C., Section 874, known as the "Anti-Kickback Act", and the Federal
Occupational Safety and Health Act of 1970.
(8) Federal regulations, both CDBG and non-CDBG, make it very clear that sub recipients should
make every effort to use local business firms and contract with small, minority-owned and/or
women-owned businesses in the procurement process.
(9) Contractors must include a completed and notarized copy of their "Certification Regarding
Debarment and Suspension for Wayne County Community Development Block Grant Program
along with their bid. The City cannot award the contract to any company suspended or debarred
or is otherwise excluded from or ineligible for participation in Federal assistance programs under
Executive Order 12549, Debarment & Suspension."
Each Bid shall be accompanied by a bid guaranty in the form of a certified check, bid bond
or cashier's check payable to the City of Romulus in an amount at least equal to five percent (5%)
of the amount of the Bid. Checks shall be made payable to the City of Romulus. The guarantee
of the successful Bidder shall be forfeited for failure to execute a contract and bonds within ten
Bid shall be good and may not be withdrawn for a period of sixty (60) calendar days after
the date for submitting bids.
The successful Bidder will be required to submit proof of all insurance required by the ITB
documents and all required endorsements.
The successful Bidder will be required to furnish satisfactory Performance Bond, Payment
Bond and Maintenance Bonds each in the full amount of the Contract.
The City reserves the right to postpone the opening without notification and also reserves
the right to reject all bids and to waive any minor informality or irregularity in bids received and
to award the bid in whole or in part. A contract will ultimately be awarded to the lowest most
responsive and responsible company, as determined in the sole discretion of the City of Romulus
or otherwise in a manner deemed by the City to be in its own best interest.
For additional information contact Lynn A, Conway City of Romulus, Purchasing Director
or Gary Harris, Buyer by calling (734) 955-4568 or by emailing
RM0303 - 060718 2.5 x 6.719
Inkster honors former 'legend' at basketball camps
Donors, stakeholders, and
joined Wayne Main Street offi-
cials for the official opening of
The event was a celebration
of the many renovations Wayne
Main Street has undertaken in
the alleyway, including new
benches, bistro tables, and light-
ing. Refreshments included a
cake made and designed by
Wayne Main Street Executive
thanked the members of the
Greater Michigan Association of
Realtors, Michigan Realtors,
Foundation, and Wayne officials
in attendance. Special thanks
were also given to Pat Rice and
instrumental in the success of
Bradford reminded the audi-
ence of the history of the Derby's
Alley project and the progress
the organization has made dur-
ing the course of the project.
The funders for the project were
thanked again for contributions
of more than $23,000, collective-
ly. Other speakers included
GMAR President James Iodice,
Mayor Pro Tem Anthony Miller,
and a special appearance from
"Wayne Main Street's success
with Derby's Alley is a source of
great pride for our organiza-
tion." stated Bradford. "We will
continue to establish a beauti-
fied downtown for our commu-
Main Street plans to continue
throughout the next year, includ-
ing the installation of a new
hanging sign. The alley will be
utilized for several events
throughout the year and resi-
dents are encouraged to attend
Wednesdays, from June 13 to
The City of Westland is cur-
rently seeking applicants to fill
vacant positions on the Parks
Council (PRAC). The PRAC is a
seven-member board appointed
by the mayor and confirmed by
city council. The PRAC reviews
plans and specifications for
work undertaken in city parks
and volunteers for programs
provided by the city recreation
department. Board members
also advise the administration
on Parks and Recreation strate-
gies. Meetings take place at
5:30 p.m. the second Tuesday of
each month at Westland City
The primary purpose of the
board is to provide advice from
a citizen's perspective. The
activities of board members
may include the study of critical
issues, performing independent
research, and reviewing staff
reports and recommendations.
These prepare the advisory
body to discuss, analyze, formu-
late, and forward well-devel-
oped, thoughtful recommenda-
tions to the administration and
the legislative body. They will
play a fundamental role in the
planning and implementation
stages of the Westland Parks
andRecreationMaster Plan.
Interested members must be
residents of Westland with an
interest in parks and recreation
activities. They must be willing
to function as part of the adviso-
ry team and willing and avail-
able to attend monthly meet-
ings. Applicants should be will-
ing to support the mission and
goals of the group and should
be familiar with various aspects
of recreation and fundraising,
established relationships with
funding partners such as com-
munity foundations, corpora-
tions, individual donors or
preparation of funding applica-
Interested applicants can
William R. Wild at mayor@city-
We will continue to establish a beautified
downtown for our community to enjoy.
Grand opening of Derby's Alley celebrated
Another Inkster Legendwill be
Henry 'Hank' Hughes will be
honored during the 21st Annual
Inkster Legends Basketball Comp
which will take place Friday, Aug.
4 andSaturday, Aug. 5 this year.
Applications for the camp are
due by July 15, noted Director
The camps are for boys and
girls ages 9-16 and are divided
into age groups for basketball
coaching. Classes for students
ages 9-12 begin at 7:30 a.m. and
classes for students ages 13-16
begin at 12:30. Al the classes take
place at the Booker Dozier
Recreational Complex, 2025
Middlebelt Road in Inkster.
required for all transportation for
students. Morning session pick up
is at 12:30 p.m. and afternoon pick
The classes re free and teach
basic skills and fundamentals of
basketball including shooting,
passing, rebounding anddefense.
For more information, contact
Smiley at (734)890-2478 or visit