Page 6 - eagle110818
P. 6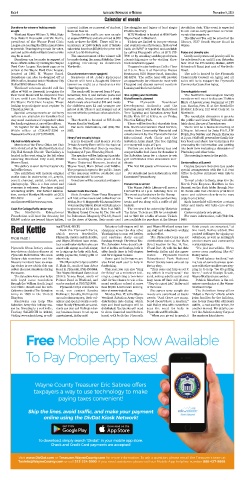 PAGE 6                                                         ASSOCIATED NEWSPAPERS OF MICHIGAN                                         November 8, 2018

                                                                        Calendar of events


        Donations for veterans' holiday meals  current tuition or payment of student  the struggles and legacy of lead singer  circulation desk. This event is expected
        sought                                 loans on Nov. 16.                     Freddie Mercury.                      to sell out so early purchase is recom-
           Westland Mayor William R. Wild, State  Tickets for the raffle are now on sale  MJR Westland is located at 6800 North  mended by organizers.
        Rep. Robert Kosowski and Vic Barra,    at supportNEF.org and are priced at $50  Wayne Road in Westland.               The Harvest Tea will be served at the
        president of the Wayne Ford Civic      each or three for $100.  There will be a  Tickets are limited  to two per veteran  library, 3737 South Wayne Road in
        League are leading the fifth annual drive  maximum of 1,500 tickets sold. If tickets  and available on a first-come, first served  Wayne.
        to provide Thanksgiving meals for veter-  sales total less than $50,000, the prize will  basis. An RSVP is required and available
        ans' and active-duty military families who  revert to a 50-50 drawing.       by calling Hopgood's office at (517) 373-  Purse and Jewelry sale
        may be in need..                         The announcement of the winner will  7800 or by emailing senhhopgood@sen-    Gently used purses and jewelry will be
           Donations can be made in support of  be made during the annual Holiday Tree  ate.michigan.gov or by visiting  face-  for sale from 9 a.m. until 2 p.m. Saturday,
        these efforts online by visiting the Wayne  Lighting Ceremony in downtown    book.com/SenHopgood.                  Nov. 10 at the Friendship Station, 42375
        Ford Civic League Facebook page or in  Northville.                             Hopgood is also hosting a Coffee Hour  Schoolcraft Road, just east of Northville
        person at the Wayne Ford Civic League,                                       at 3 p.m. Nov. 9 at Romulus House     Road.
        located at 1661 N. Wayne Road.         Church members serve spaghetti        Restaurant, 9110 Wayne Road, Romulus,    The sale is hosted by the Plymouth
        Donations can also be dropped off at     Members of St. John's Episcopal     MI 48174.  The coffee hour will provide  Community Council on Aging and all
        Wild's office, located inside Westland City  Church will host a Spaghetti Dinner  an opportunity for citizens to meet with  sales will help support the Plymouth
        Hall at 36300 Warren Road.             tomorrow night as a fundraiser for    Hopgood and discuss current events in  Community Council on Aging.
           Westland veterans should call the   church program.                       Lansing and the local district.
        office of Wild or Kosowski to register for  The meals will be served from 5-7 p.m.                                 Genealogists to meet
        their meal. Meals will be dispersed from  tomorrow, Nov. 9, and include pasta and  Tree Lighting and Red Kettle       The Northville Genealogical Society
        10 a.m. until 1 p.m. Saturday, Nov. 17 at  sauce, salad, bread, dessert and a drink.  Kickoff event is planned     members will meet to discuss Hidden
        the Wayne Ford Civic League. Those     Adult meals are priced at $10 and meals  The     Plymouth      Downtown     Hints of Ancestry.com beginning at 1:15
        looking to participate must register by  for children ages 12 and younger are  Development Authority and the       p.m. Sunday, Nov. 11 at the Northville
        Thursday, Nov. 14.                     priced at $4. Those 3 and younger eat at  Salvation Army will host the Main Street  District Library, 212 West Cady St. in
           Special arrangements or delivery    no cost with the purchase of an adult din-  Tree Lighting and Salvation Army Red  Northville.
        options are available for families that  ner.                                Kettle Kick Off at 6:30 p.m. on Friday,  The roundtable discussion is open to
        may need assistance if requested when    The church is located at 555 South  Nov. 9 in Kellogg Park.               the public and Grace Wilfong will offer
        the family registers at one of the offices.  Wayne Road in Westland.           There will be free hot chocolate from  hints about the use of Ancestry.com
           To register for the holiday meal, call  For more information, call (734) 721-  E.G. Nick's and Gordon Food Service,  There will be a business meeting at
        Wild's office at (734)467-3200 or      5023.                                 cookies from Community Financial and  2:30 p.m. followed by Judy Pfaff, J.W.
        Kosowski's office at ( 517) 373-2576.                                        entertainment by the Plymouth Canton  Dolph, Boy Soldier and Family Historian
                                               Henry Ford security is topic          Educational Park Choir and the        at 3 p.m. Pfaff will present her family his-
        City hall exhibits artwork               Harry Bennett and Henry Ford's      Salvation Army Band. The tree lighting  tory book and share her techniques for
           Members of the Three Cities Art Club  Private Security Force will be the topic at  ceremony will begin at 7 p.m.   processing the information and putting
        will exhibit art at the Westland Gallery at  the Wayne Historical Society meeting  Visitors are asked to bring toys and  into book form including a discussion of
        City Hall through Nov. 29.  The Gallery is  beginning at 7 p.m. Thursday, Nov. 8.  nonperishable food items for donation to  Photoshop and other tools.
        located in the west wing, to the left when  The speaker will be Anthony Rzuciolo.   the Salvation Army for a chance to win  The meeting is open to the public.
        entering Westland City Hall, 36300       The meeting will take place at the  gift certificates from downtown mer-
        Warren Road.                           Wayne Historical Museum, located at   chants.                               Santa mailbox at Summit
           The gallery is open during regular city  Wayne Road, Main Street and Biddle.  The first 100 guests will receive a free  Canton Leisure Services has made
        hall office hours.                     The program is open to the public. Tours  gift.                             special arrangements with the U.S. Post
           The exhibition will include original  of the museum will be available and   For details and more information, visit  Office to deliver children's wish lists to
        works done in watercolor, oil, acrylic,  refreshments will be served.        DowntownPlymouth.org                  Santa.
        pencil, charcoal, pastel, airbrush, and  Donations will be accepted and appre-                                        To mail a letter to Santa, drop it in the
        photography.  This is a free event and  ciated.                              Harvest Tea is served                 North Pole Express Mailbox in the
        everyone is welcome.  Purchase original                                        The Wayne Public Library will serve a  Summit on the Park lobby through Nov.
        art starting at $75.   For further informa-  Senator hosts free movie        Harvest Tea at 1 p.m. Saturday, Nov. 10.  30. Santa asks that children print their
        tion, contact Marilyn Meredith at (313)  State Senator Hoon-Yung Hopgood     The event is a fundraiser for the library.   name and address clearly so he may
        231-3939           or          email   will host a free movie and coffee hour on  The menu will include sandwiches,  reply to your letter.
        marilynmeredith@wowway.com.            Friday, Nov 9. Hopgood's 4th Annual Free  treats and tea along with a raffle of gift  Each household will receive a return
                                               Veterans Day Movie Event will take place  baskets.                          letter and Santa will take care of the
        Cash For College Raffle under way      beginning at 12:30 p.m. Nov. 9 at MJR   The event will be catered by Victoria's  postage.
           The    Northville    Educational    Westland Grand Cinema 16. The film will  Tea Salon. Tickets are $35 for an individ-  Canton residents only please.
        Foundation will host the drawing for   be Bohemian Rhapsody (PG-13), based   ual or $210 for a table of seven. Tickets  For more information, call (734) 394-
        $25,000 cash to use toward future tuition,  on the story of Queen, their music and  are available for purchase at the library  5460.
        Red Kettle                     ing 877-SAL-MICH.              shopping areas the day after  and Wayne-Westland corps hav-  think people are surprised," at
                                                                        Volunteer bell-ringers will hit
                                                                                                                                   the need, Bailey added. She
                                                                                                    ing staff and volunteers working
                                         Both the Plymouth Corps,
                                       which    serves  Northville,   Thanksgiving to man red kettles,  on that effort.            praised Kollinger for signing up
        FROM PAGE 1                    Plymouth, Canton and Belleville,  and continue daily except     The Plymouth Corps has set  volunteers, as well as Kollinger's
                                       and Wayne-Westland have volun-  Sundays through Christmas Eve.  distribution dates at the Main  predecessors and community
                                       teer coordinator staffers who can  The Salvation Army doesn't col-  Street location for Dec. 14, Dec.  residents/groups.
        Plymouth Noon Rotary volun-    assist with signup as a bell-ringer,  lect at kettles on Sundays, both to  17 and Dec. 18, with the last date  "It's just incredible. We've
        teer-driven chicken dinner at  or to sign up for help with food,  offer family time to bell-ringers  food-only. Bailey said she appre-  never seen anything like it,"
        Plymouth Fall Festival. The noon  utility payments, family gifts or  and for religious reasons.  ciates  Plymouth-Canton   Bailey noted.
        Rotary club members and the    other help.                      Some paid bell-ringers are  Educational Park National        "It will balance itself out," not-
        Kiwanis members have an ongo-    The Plymouth Corps is at 9451  also hired each year to help in  Honor Society teens who set up  ing loss of some business spon-
        ing rivalry to see which club can  S. Main St., south of Ann Arbor  fundraising.            the toy shop.                  sors with other smaller ones step-
        collect the most donations during  Road in Plymouth, (734) 453-5464.  This year, you can also "Ring  "They come and help us set it  ping in to help. "So it's getting
        the season.                    The Wayne-Westland Corps is at  for Bling" as a volunteer bell-  up, which is really neat," she  there," noted Gladys Beach,
           The Salvation Army also helps  2300 S. Venoy Road, south of  ringer, completing a two-hour  said, noting adults assist and  Wayne-Westland case worker.
        with legal issue resolution    Palmer Road in Westland, and   shift for the chance to win a dia-  keep teens off their cell phones.  Patricia Meacham is the vol-
        through the William Booth Legal  can be reached at (734) 722-3660.  mond necklace valued at more  "They do a good job," Bailey said  unteer coordinator at the Wayne-
        Aid Clinic. Booth and his wife   Plymouth Corps residents in  than $6,000. Learn more and reg-  of the teens.              Westland Corps.
        Catherine founded The Salvation  need, can contact Sandra     ister at www.ringbell.org.       She agrees some people she    The Salvation Army offers
        Army in 1865 in the United     Kollinger, Sandra_Kollinger@     Monday, Dec. 17, is the Wayne-  meets are surprised at basic  "Adopt a Family" efforts which
        Kingdom.                       usc.salvationarmy.org, their vol-  Westland Salvation Army Corps  needs. "And there are many.  joins families for the holidays,
           Residents can help The      unteer and special events coordi-  distribution date during  which  Need doesn't have a location,"  one to buy items like children's
        Salvation Army this holiday sea-  nator. Needy Plymouth-area resi-  toys and food packages will be  said Bailey who with co-workers  outfits,  a coat and toy or two, for
        son by: Donating to a red kettle;  dents can also call Kollinger dur-  distributed. Recipients will need  sees the need for help in  another in need. For details, con-
        Texting SALMICH to 41444;      ing business hours to set up an  to show financial need before-  Plymouth and Northville.   tact the Salvation Army Corps at
        Visiting www.salmich.org; or call-  appointment, Bailey said.  hand, with both the Plymouth    "When you go out to speak, I  the numbers listed above.