Page 6 - eagle120618
P. 6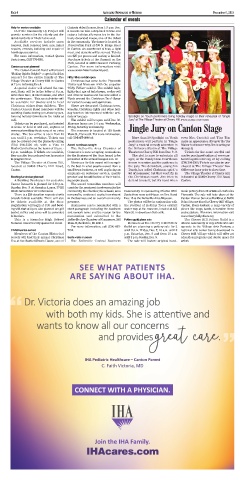 PAGE 6                                                         ASSOCIATED NEWSPAPERS OF MICHIGAN                                         December 6, 2018

                                                                        Calendar of events


        Help for seniors available             Canton's oldest homes, from 1-3 p.m. Dec.
           CUP the Community Up Project will   8. Guests can take a step back in time and
        provide services for the elderly and dis-  enjoy a holiday afternoon tea in the fes-
        abled residents of Inkster at no cost.  tively decorated house, one of the oldest
           Available services include snow     in the community.  The home is located in
        removal, trash removal, lawn care, minor  Preservation Park at 500 N. Ridge Road
        repairs, errands, building and repair of  in Canton. An assortment of teas, a light
        handicap accessories.                  meal, and desserts will be served. Tickets
           For more information, contact Queen  are $25 per person and seating is limited.
        Paris Jones, (313) 778-0931.           Purchase tickets at the Summit on the
                                               Park, located at 46000 Summit Parkway,
        Canton concert planned                 Canton. For more information visit
           The Canton Concert Band will present  www.cantonhistoricalsociety.org.
        "Making Spirits Bright!"- a special holiday
        concert for the entire family at The   Nifty Fifties exhibit open
        Village Theater at Cherry Hill in Canton  Christmas has come to the Plymouth
        at 7 p.m. Saturday, Dec.8.             Historical Museum with the popular
           A special visitor will attend the con-  "Nifty Fifties" exhibit. The exhibit high-
        cert; Santa will be in the lobby at 6 p.m.  lights that age of hula-hoops, rock-n-roll
        until show time, at intermission, and after  and drive-in movies and has now added a
        the performance.  This special visitor will  "Rock around the Christmas Tree" flavor
        be available for photos and to hear    for visitors to enjoy and appreciate.
        Christmas wishes from children.  The     There are decorated Christmas trees,
        Canton Concert Band members will be    wreaths, Christmas lights and other holi-
        assisting Santa during pre-show by per-  day touches interspersed with the arti-
        forming holiday favorites in the lobby as  facts of long ago.                   Spotlight on Youth performers bring holiday magic to their rehearsal of "Jingle
        well.                                    The exhibit will be open until Dec. 30.  Jury" at The Village Theater at Cherry Hill. (Photo courtesy of Joe Kvoriak)
                                                 The museum is located at 155 South Jingle Jury on Canton Stage
           Tickets can be purchased, and printed  Museum hours are 1-4 p.m. Wednesday,
        at home or held in will call, anytime at  Friday, Saturday and Sunday.
        www.cantonvillagetheater.org at no extra
        charge.  The box office is open from 10  Main St., Plymouth. For more information,
        a.m. until 2 p.m. weekdays. Tickets can  call (734) 455-8940 x0.                  More than 30 Spotlight on Youth  even Mrs. Cratchit and Tiny Tim
        also be ordered over the phone by calling                                       performers will perform in "Jingle  make an appearance. It's up to the Toy
        (734) 394-5300 x3, with a Visa or      Award nominees sought                    Jury," a musical comedy adventure in  Maker to discover why Jim is acting so
        MasterCard between the hours of 10 a.m. -  The Belleville Area Chamber of       the Biltmore Studio at The Village  strangely.
        2 p.m. weekdays. If tickets are available,  Commerce is now accepting nominations  Theater on Cherry Hill from Dec. 6 - 9.  Tickets for the event are $12 and
        they can also be purchased one hour prior  for the Business of the Year Award to be  The plot is sure to entertain all  can be purchased online at www.can-
        to program time.                       presented at the annual banquet Jan. 12.   ages, as the Candy Cane Courthouse  tonvillagetheater.org or by calling
           The Village Theater at Cherry Hill,   Nominees for this award will exempli-  is now in session and the audience is  (734) 394-5300. Tickets can also be pur-
        located at 50400 Cherry Hill Road,     fy the best in what people expect from a  the jury. The defendant, young Jim  chased at The Village Theater Box
        Canton.                                small town business, as well as placing an  Dandy, has called Christmas spirit 'a  Office one hour prior to show time.
                                               emphasis on customer service, quality    lot of nonsense', but that won't fly in  The Village Theater at Cherry Hill
        Bowling fundraiser planned             product and beautification of their build-  the Christmas court. Jim tries to  is located at 50400 Cherry Hill Road,
           A Bowling Fundraiser for pediatric  ing and/or goods.                        defend himself, but it's hard when  Canton.
        Cancer Research is planned for 3:30 p.m.  The award committee members will
        Sunday, Dec. 9 at Romulus Lanes, 37452  consider the nominee's involvement in the
        West Huron River Dr. in Romulus        community, the chamber, the schools, area  Community is sponsoring Photos With  made pottery from 20 artists all crafted in
           There is a $20 donation requested with  non-profits, continued capital investment  Santa from noon until 4 p.m. on Dec. 8 and  Plymouth. The sale will take place at the
        presale tickets available. There will also  in the business and an overall community  Dec. 15 at the Belleville Area Museum.  Canton Human Services Building at 50430
        be tickets available at the door.      presence.                               The photos will be in conjunction with  School House Road in Cherry Hill Village,
        Registration will begin at 3:30 and bowl-  Businesses can be nominated with a  the Festival of Holiday Trees exhibit  Canton. Items include a large variety of
        ing will start at 4 p.m. also planned are gift  short paragraph including the business  under way at the museum, located at 405  pieces like mugs, bowls, decorative items
        basket raffles and pizza will be provided  and owner's name and the reason for the  Main St. in downtown Belleville.    and sculpture.  For more information visit
        to bowlers.                            nomination and submitted to the                                             www.cherryhillpotters.org
           This is a Romulus High School       Belleville Are Chamber of Commerce, 248  Potters guild plans sale              The Cherry Hill Potters Guild is a
        National Honor Society sponsored event.  Main St, Belleville, MI 48111.        Members of the Cherry Hill Potters  diverse community of clay artists who will
                                                 For more information, call (734) 697-  Guild are planning a pottery sale for 2  operate in the Village Arts Factory, a
        Christmas tea served                   7151.                                 until 8 p.m. Friday, Dec. 7, 10 a.m. until 6  regional arts center being developed in
           Members of the Canton Historical                                          p.m. Saturday, Dec. 8 and from 10 a.m.  Cherry Hill Village which will offer art
        Society will host their annual Christmas  Santa visits museum                until 3 p.m. Sunday, Dec. 9.          education programs and studio space for
        Tea at the Bartlett-Travis House, one of  The Belleville Central Business      The sale will feature original hand-  artists.