Page 9 - eagle101118
P. 9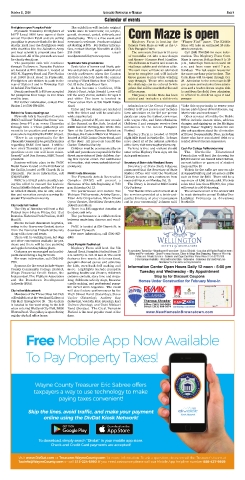 October 11, 2018                                               ASSOCIATED NEWSPAPERS OF MICHIGAN                                                  PAGE 9

                                                                        Calendar of events


        Firefighters open 'Pumpkin Patch'        The exhibition will include original
           Plymouth Township firefighters of   works done in watercolor, oil, acrylic,
                                               pencil, charcoal, pastel, airbrush, and
        IAFF Local 1496 have opened their      photography.  This is a free event and Corn Maze is open
        annual Pumpkin Patch and are selling
        pumpkins to generate funds for the local  everyone is welcome.  Purchase original  Maybury Farm is hosting the     "Finger Find" game.  The Kiddie
        charity. Each year the firefighters work  art starting at $75.   For further informa-  famous Corn Maze as well as the U-  Maze will take an estimated 20 min-
        with charities like the Salvation Army  tion, contact Marilyn Meredith at (313)  Pick Pumpkin Patch.               utes to complete.
        and local schools to pinpoint area fami-  231-3939       or          email        The corn maze this year is 10 acres  Call (248) 374-0200 for more infor-
        lies in need. All of the proceeds are used  marilynmeredith@wowway.com.         of cornstalks cut into a new design  mation. The Maybury Farm Corn
        for charity donations.                                                          and theme-- Farmers Feed Families.  Maze is open on Fridays from 5 to 10
           The pumpkin sale will continue      Spellbinder tells ghost stories          The full maze is 9-acres and is sure to  p.m., Saturdays from noon until 10
        through Halloween. Pumpkin Patches       Eerie tales of horror and fright, gob-  challenge adults and children alike.  p.m. and from noon until 7 p.m.
        are located at Fire Station 1, located at  lins and ghouls will again enthrall and  The corn maze will take an estimated  Sundays.  The last wagon leaves for
        9911 N. Haggerty Road and Fire Station  terrify audiences when the Canton       hour to complete and will include  the maze one hour prior to close.  The
        3 at 13600 Beck Road in Plymouth.      Historical Society hosts the annual      three games to play while winding  Corn Maze will be open through Oct.
        Firefighters ask visitors to park in the  evening of Ghost Stories from 6-7:30 p.m.  way through.  Those who complete  28.  Admission to the corn maze is $9
        rear of Station 3 and in Township Hall  Oct. 13 in the Cady-Boyer Barn.         the challenge can be entered to win  per person and includes farm admis-
        lot behind Fire Station 1.               As has become a tradition, 35th        prizes that will be awarded at the end  sion and a tractor-drawn wagon ride
           Donations from $4 to $10 are accepted  District Court Judge Ronald Lowe will  of the season.                    to and from the field. Free admission
        for pumpkins that range in size from   tell the scary stories, suitable for ages 8  This year, a Kiddie Maze has been  is offered to children ages 2 and
        small to large.                        and older. The barn is located in        added and includes a children's    younger.
           For further information, contact Fire  Preservation Park at 500 North Ridge
        Station 1 @ (734) 354-3230.            Road.                                   Admission to the Great Pumpkin      "Take this opportunity to renew your
                                                 Cider and two donuts are included   Festival is $7 per person and includes  license plate tabs or driver's license, reg-
        Behind the Scene meetings set          with the ticket and will be available  farm admission or, for $10 per person  ister to vote and much more."
           Plymouth Arts & Recreation Complex  while supplies last.                  guests can enjoy the festival, corn maze  Other services offered by the Mobile
        (PARC) will host "Behind the Scene" ses-  Tickets, priced at $5, are now on sale  with wagon ride, and farm admission.  Office include instant titles, address
        sions from 6-7 p.m. every Thursday     at the Summit on the Park, located at  Children 2 and younger receive free  changes, and signing up on the Michigan
        through Nov. 1. These gatherings are   46000 Summit Parkway, the White Pole  admission to the Great Pumpkin        Organ Donor Registry. Residents can
        meant to be question and answer ses-   Barn at the Canton Farmers Market on  Festival.                             also ask questions about the elimination
        sions where regarding the PARC project.  Sundays, the Canton Historical Museum  Maybury Farm is located at 50165   of Driver Responsibility Fees, including
           "Here is an opportunity for the     located at 1022 Canton Center Road, and  Eight Mile Road in Northville.  To learn  those who have associated debt or a
        Plymouth Community to get information  at the door.  All proceeds benefit the  more about all of the autumn activities  related driver's license suspension.
        regarding PARC first hand.  I will be  Canton Historical Society.            at the farm, visit www.mayburyfarm.org.
        here every Thursday to answer all your   Children must be accompanied by an    Parking is free and visitors should  Cash For College Raffle under way
        questions so no one will leave misin-  adult and parents are responsible for the  enter at the Maybury Farm sign, not the  The  Northville  Educational
        formed," said Don Soenen, PARC board   direct supervision of their children dur-  state park entrance.             Foundation will host the drawing for
        president.                             ing this special event. For additional                                      $25,000 cash to use toward future tuition,
           Sessions will take place in the PARC  information, visit www.cantonhistorical-  Secretary of State visits Westland library  current tuition or payment of student
        Model Room located on the first floor at  society.org.                         Secretary of State Ruth Johnson     loans on Nov. 16.
        the facility, located at 650 Church St. in                                   announced that the Secretary of State    Tickets for the raffle are now on sale
        Plymouth.  For more information, call  PARC hosts Showcase                   Mobile Office will visit the Westland  at supportNEF.org and are prices at $50
        (734) 927-4090.                          The Plymouth Arts & Recreation      Library to serve area customers from  each or three for $100.  There will be a
           PARC is a 501(c)3 public charity, lead-  Complex (PARC) will present a    noon until 4 p.m. on Monday, Oct. 15.  maximum of 1,500 tickets sold. If tickets
        ing the effort to convert the historic  Showcase of the Arts beginning at 7:30  The library is located at 6123 Central  sales total less than $50,000, the prize
        Central Middle School and the 16.6 acres  p.m. Saturday, Oct. 13.            City Parkway.                         will revert to a 50-50 drawing.
        on which it stands, into an arts, educa-  The performance will feature The     "Our Mobile Office offers almost all of  The announcement of the winner will
        tion and recreation complex serving the  Michigan Philharmonic, Artistry Dance,  the services provided at a brick-and-  be made during the annual Holiday Tree
        greater Plymouth community.            Eden Arts Cooperative, Main Street    mortar location, at your convenience  Lighting Ceremony in downtown
                                               Opera Theatre, The Mitten Theater, Arts  and in your community," Johnson said.  Northville.
        City hosts Fall Festival               Detroit and others.
           The City of Romulus will host a Fall  There is a $15 suggested donation at
        Festival from 5-8 p.m. Friday, Oct. 12 at  the door, cash only.
        Romulus Historical Park Pavilion, 11147  The performance is collaboration
        Hunt St.                               between musicians, dancers and vocal-
           Events include downtown hayrides,   ists.
        voting in the Scarecrow Contest, stories  PARC is located at 650 Church St. in
        from the Romulus Historical Society    downtown Plymouth.
        along with a tour and treats.            For more information, call (734) 927-
           There will be walking tacos, hot dogs  4090.
        and other concessions available for pur-
        chase and there will be face painting  Great Pumpkin Festival set
        and apple decorating taking place.       Maybury Farm will host the 5th
           Costumes are encouraged and partici-  Annual Great Pumpkin Festival from 10
        pants should bring a bag for treats.   a.m. until 5 p.m. Oct. 13 and 14. The event
           For more information, call (734) 942-  features live music, delicious food,
        7571.                                  pumpkin-themed games and activities
           Sponsors for the event include Wayne  for kids, corn husk doll making and
        County Community College District,     more.  Highlights include pumpkin
        Wings Financial Credit Union, the      painting, bonfire and S'mores, children's
        Independent Fire Fighters Association  costume contests, story time and sing-a-
        and the Downtown Development           long, children's activity stage, beeswax
        Authority (DDA).                       candle making, and professional pump-
                                               kin carver John Angevine.  The event
        City hall exhibits artwork             will also feature performances by the
           Members of the Three Cities Art Club  High Street Band (Saturday), Steve
        will exhibit art at the Westland Gallery at  Taylor (Saturday), Audrey Ray
        City Hall  through Nov. 29.   The Gallery  (Saturday), Vendetta Ride (Sunday), Kari
        is located in the west wing, to the left  Holmes (Sunday), and Todd Michael
        when entering Westland City Hall, 36300  Band (Sunday).  The Great Pumpkin
        Warren Road. The gallery is open during  Festival is the most popular event at the
        regular city hall office hours.        farm.