Page 6 - eagle071119
P. 6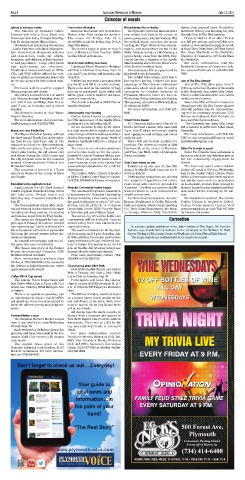 PAGE 6                                                         ASSOCIATED NEWSPAPERS OF MICHIGAN                                             July 11, 2019

                                                                        Calendar of events


        Library to sell used books             Free movie in Romulus                 Revolutionary 60s on display          Sports Den; Beyond Juice, Northville;
           The Friends of Romulus Public         Romulus Recreation will present free  the Plymouth Historical Museum has a  Northville Winery and Brewing Co. with
        Library will host a Used Book and      Movies in the Park during the summer.  new exhibit dedicated to the decade of  Genitti's Hole In The Wall catering
        Rummage Sale today through Saturday,   The movie for Friday, July 19 is      peace movements, riots, the Vietnam War,  Crawlers must be 21 or older. Tickets
        July 13, during regular library hours.  Incredibles 2 and for Friday, Aug. 16 is A  the British music invasion, the moon  are $25 per person and available now
           The Book Sale is featuring two authors  Dog's Way Home.                   landing, the Tiger World Series champi-  online at www.northville.org/grub-crawl,
        - James Patterson and Janet Evanovich.   The movies begin at dusk or near 9  onship, and many other events of the  at Good Time Party Store, 567 West Seven
        Sale items include thousands of fiction  p.m. at Historical Park Pavilion, 36095  1960s. Displays include a 1965 Mustang, a  Mile Road, Northville or the Northville
        and non-fiction books for adults,      Goddard Road in Romulus.              typical family scene from the 1960s, bicy-  Chamber of Commerce, 195 South Main
        teenagers, and children, in both hardcov-                                    cles of the era, a vignette of the Apollo  St., Northville.
        er and paperback.   Large-print books  Church hosts clothing Give Away       Moon Landing and a life-size street scene  For more information, visit the
        and audio-books are available.           Lighthouse Home Mission in Westland  of the Beatles on Abbey Road.        Northville Chamber of Commerce web-
        Hundreds of movies and music on DVDs,  will host a Clothing Give Away from 10  Revolutionary '60s is sponsored by  site www.northville.org or call (248) 349-
        CDs, and VHS will be offered for sale.  a.m. until 7 p.m. Friday and Saturday, July  Blackwell Ford of Plymouth.   7640.
        Lots of gently-used household items will  19 and 20.                           The exhibit will continue until Nov. 6.
        be for sale along with home-baked cook-  Visitors can purchase a new gray cloth  During this period, visitors can take  Jazz at The Elks planned
        ies.                                   bag for $2 and fill it up with clothing.  advantage of "Free Summer Saturdays"  Jazz at The Elks takes place from 7-
           Proceeds will be used to support    There is no limit on the number of bags  admission which ends Aug. 31 and is  9:30 p.m. on the last Tuesday of the month
        library programs and classes.          that can be purchased.  Each visitor will  sponsored by Comfort Keepers of  at the Plymouth Ann Arbor Elks Lodge.
           The library is open from 10 a.m. until 8  also be given a box in which to put shoes,  Plymouth. Museum hours are 1-4 p.m.  There is a $10 donation at the door which
        p.m. Monday through Thursday; from 10  coats and larger items.               Wednesday, Friday, Saturday and Sunday.  includes hors d'oeuvres.
        a.m. until 6 p.m. on Friday; from 10 a.m.  The church is located at 34033 Palmer  The museum is located at 155 South Main  New to the Elks will be Jim Cooper on
        until 5 p.m. on Saturday and is closed  Road in Westland.                    St. Plymouth, 48170.                  vibraphone with the Jim Cooper Quartet
        Sundays.                                                                       For more information, call (734) 455-  who will perform July 30.  Also perform-
           The library is located at 11121 Wayne  Library marks moon landing         8940.                                 ing will be returning musicians, Cliff
        Road in Romulus.                         Canton Public Library is celebrating                                      Monear on keyboard, Kurt Krahnke on
           For more information, visit www.romu-  the 50th anniversary of the Apollo Moon  Church hosts bazaar             bass, and Pete Siers on drums.
        luslibrary.org or call (734) 942-7589.   Landing at 2 p.m. Saturday, July 20.  St. Clements Episcopal Church in       The Plymouth Ann Arbor Elks Lodge
                                                 All are welcome to stop by for activi-  Inkster will host a bazaar from noon until  325 is located at 41700 Ann Arbor Road,
        Museum to host Family Day              ties, light snacks (while supplies last) and  7 p.m. July 27 which will include slightly  Plymouth.
           The Wayne Historical Society will host  video footage of Neil Armstrong and Buzz  used appliances and clothing and lots of  For more information, call (734) 453-
        the third annual Family Day at the muse-  Aldrin's first steps on the moon. World of  crafts for sale.             1780 or visit www.plyaa325.com or email
        um from 10 a.m. until 5 p.m. July 13. The  Rocks in Ypsilanti will have a display of  There will also be food available for  jazzattheelks@gmail.com.
        museum will host live demonstrations,  space rocks.                          purchase. The church is located at 4300
        kids crafts and games, Touch-A-Truck,    The event is one of many programs   Harrison St. at the corner of Harrison  Sister Pie founder to speak
        direct sales booths, the old engine club  and activities lined up for the space-  and Pine, one block north of Annapolis  Sister Pie Founder Lisa Ludwinski is
        and others during the US12 cruise and  themed 62 Days of Summer library pro-  Street, in Inkster.                  known as much for her delicious pies as
        the city sidewalk sales on the museum  gram. There are galactic puzzles and a                                      for her community engagement in
        ground, Congregational Church and      cosmic scavenger hunt in the library. Visit  Grub Crawl tickets on sale     Detroit.
        Methodist Church.                      www.cantonpl.org/calendar for a full list  Tickets are on sale now for the 15th  The business owner and cookbook
           The museum is located at 1 Town     of programs.                          Annual Northville Grub Crawl set for 6-  author will speak at 6:30 p.m. Wednesday,
        Square in Wayne at the corner of Main    The Canton Public Library is located  9:30 p.m. July 23.                  July 31 the Canton Public Library. There
        and Biddle.                            at 1200 S. Canton Center Road in Canton.  Participating restaurants are offering  will be a few treats to taste while supplies
                                               Call (734) 397-0999 for library information.   free samples of appetizers and entrée  last, but the main event is a presentation
        Basketball camp applications due                                             items along with cash bar specials for  on Ludwinski's journey from concept to
           Applications for the 22nd Annual    Romulus Community Festival begins     "Crawlers".  Crawlers can use free shuttle  kitchen. Learn how her mindset and busi-
        Inkster Legends Basketball Camp which    The American Progressive Association  transportation to each restaurant or  ness model set the company up for suc-
        will take place Friday, Aug 2 and      is sponsoring the Romulus Community   "crawl" on their own.                 cess.
        Saturday Aug. 3 must be submitted by   Festival including a free family movie in  Participating Restaurants include:  No registration required. The Canton
        July 15.                               the park beginning at about 7:30 p.m.  Brann's Steakhouse & Grille; Edwards  Public Library is located at 1200 S.
           The free basketball clinics offer coach-  Friday, July 26 at the T.  J. Coleman  Cafe and Caterer; North Center Brewing  Canton Center Road in Canton. Visit
        ing and training in basic skills of the sport  Community Center, 35351 Beverly Road  Co.: Twin Peaks Restaurants; 160 Main;  www.cantonpl.org or call (734) 397-0999
        including shooting, passing, rebounding  in Romulus, just east of Wayne Road.  Le George; Mission BBQ; Northville  for library information.
        and defense, noted Director Fred Smiley.  The movie Juy 26 will be Little and
           The camps are designed for boys and  concessions will be available. Visitors                            Correction
        girls ages 9 through 16 and are divided  should bring their own blankets and
        into classes by age. Lunch is offered after  chairs for seating.                  In a photo caption published in the July 4 edition of The Eagle, Dr. Jennifer
        the early session and a dinner is provided  The event will feature an all day festi-  LaDuke was misidentified. LaDuke is the principal at the William D. Ford
        following the second session before stu-  val from noon until 9 p.m. Saturday, July  Career Technical Education Center in Westland, not John Glenn High School.
        dents are dismissed.                   27 with activities, food music and vendors  The Eagle regrets any confusion the error may have caused.
           An awards presentation and the all-  along with bouncers and children's con-
        star game take place on Saturday.      tests. A Gospel Celebration is set for 2-8
           The classes take place at the Booker  p.m. on Sunday July 28 along with praise
        Dozier Recreational Complex, 2025      dancers, church choirs and vendors.
        Middlebelt Road in Inkster.              From more information, contact  (734)
           More information is available from  728-9904 or (313) 485-1312.
        Smiley at (734) 890-2478 or by accessing
        the website at inksterlegends.com where  Church group plans Bible Walk
        applications can be found.               New Birth Baptist Church and Sisters
                                               With A Purpose will host a Bible Walk
        Coffee With A Cop served               trip to Ohio on Saturday, Aug. 24.
           The Inkster Police Department will    Participants will leave the Inkster
        host Coffee With A Cop at 6 p.m. July 17 at  church, located at 27628 Avondale St. at 7
        Gracie See Pastaria, 26734 Michigan Ave.  a.m. to travel to 500 Tingley in Mansfield
        in Inkster.                            Ohio.
           There is no agenda or speeches, just  The $95 fee includes round-trip travel
        an opportunity to enjoy a cup of coffee,  on a luxury motor coach, snacks on the
        ask questions, voice concerns and get to  bus and dinner at the Bible Walk. Fees
        know the officers serving area neighbor-  must be paid in full by July 22 and there
        hoods.                                 will be no refunds.
                                                 All checks must be made payable to
        Farmers Market is open                 Sisters With a Purpose and mailed to
           The Romulus Farmer's Market is open  New Birth Baptist Church at the address
        from 11 a.m. until 4 p.m. every Wednesday  listed above. There will be a $12 fee for
        through Sept. 25.                      any non-sufficient funds or returned
           Each Wednesday includes a theme day  check.
        giveaway and those who enroll in the free  For more information, contact
        market Kid's Club receive a $2 coupon  President Orlessia Watson at (313) 748-
        each month.                            8667; Vice President Wanda Kirkland
           The market takes place at the       (313) 415-8071, Secretary Corrinthia
        Romulus Historical Park Pavilion, 11147  Glenn, (313) 687-7026 or Shirley Walker
        Hunt St. in Romulus. For more informa-  (313) 544-0354.
        tion, call (734) 955-4531.