Page 6 - eagle051619
P. 6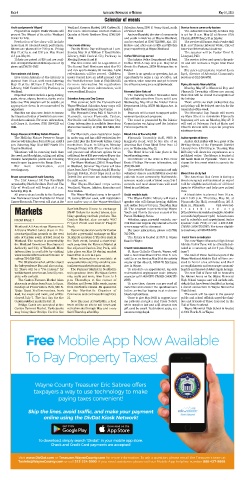 PAGE 6                                                         ASSOCIATED NEWSPAPERS OF MICHIGAN                                             May 16, 2019

                                                                        Calendar of events


        Youth cast presents 'Wizard'           Westland Farmers Market, 1901 Carlson St.  Salvation Army, 2300 S. Venoy Road, south  Service honors community leaders
           Players from Inspire Youth Theatre will  For more information contact Nathan  of Palmer Road.                      The Adventist Community Services Day
        present The Wizard of Oz at the Westland  Quenby at North Brothers Ford, (734) 524-  Andrew Barylski, director of community  is set for 11 a.m. May 25 at Sharon SDA
        Center for Arts.                       1244.                                 and youth ministries at Wayne-Westland,  Church, 28537 Cherry St in Inkster.
           Production of the show will include                                       can be reached at (734) 722-3660, Ext. 110.  The service will honor Poala Prude-Hall
        more than 30 talented youth performers.  Free movie at library               Before- and after-care is $20 and $25 this  M.D. and Thomas Edward White, CEO of
        Shows are planned for 7:30 p.m. Friday,  Family Movie Day will begin at 1 p.m.  year, respectively, at Wayne-Westland.   American International Academy.
        May 17; at 3 p.m. and 7:30 p.m. May 18 and  Sunday, May 19 at William P. Faust Public                                 The speaker will be Pastor Errol E.
        at 3 p.m. May 19.                      Library, 6123 Central City Parkway in  Coffee With A Cop served             Liverpool, PhD.
           Tickets are priced at $15 and are avail-  Meeting Rooms A and B.            The Inkster Police Department will host  The service is free and open to the pub-
        able at inspiretheatre.ticketleap.com or by  The free movie will be Lego Movie 2:  Coffee With A Cop at 6 p.m. May 22 at  lic and will include a Vegan Soul Food
        phone at (734) 751-7057.               The Second Part!  Movies are rated G or PG  Gracie See Pastaria, 26734 Michigan Ave. in  lunch.
                                               and run approximately 90 minutes. Light  Inkster.                              For more information contact Lucy
        Farm animals visit library             refreshments will be served.  Children  There is no agenda or speeches, just an  Byrd, director of Adventist Community
           Live Farm Animals at the Library is  under 8 must have an adult present. Call  opportunity to enjoy a cup of coffee, ask  Services at (313) 293-9753.
        planned from 10 a.m. until noon Saturday,  the Youth Reference Desk at (734) 326-6123  questions, voice concerns and get to know
        May 18 at the William P. Faust Public  for more information. No registration  the officers serving area neighborhoods.  Plymouth marks Memorial Day
        Library, 6123 Central City Parkway in  required. For more information, visit                                          Monday, May 27 is Memorial Day and
        Westland.                              www.westland.lib.mi.us                Memorial Bake Sale set                Plymouth Township offices are among
           Expected visitors include a pony, donkey,                                   The Dorothy Gardner Memorial Bake   those that will be closed in recognition of
        goats, sheep, alpaca, bunnies, ducks, and a  Salvation Army sets Day Camps   Sale will take place from 10 a.m. until 1 p.m.  the holiday.
        baby cow. This program will be outside, so  This summer, both the Plymouth and  Wednesday, May 22 at the Inkster Police  There will be no trash pickup that day
        appropriate dress is recommended by    Wayne-Westland Salvation Army corps will  Department lobby, 26279 Michigan Ave. in  and pickup will be delayed one day for the
        organizers.                            again offer their Summer Day Camps.   Inkster.                              remainder of the week.
           Families can also come inside to browse  The Plymouth Corps, 9451 S. Main St. in  Proceeds will be used to support police  The Memorial Day Parade will march
        the library collection of books to learn more  Plymouth, serves Plymouth, Canton,  community outreach programs.    up Main Street in downtown Plymouth
        about farm animals. For more information,  Northville and Belleville. Summer Day  The event is presented by the Inkster  beginning at 9 a.m. on Monday, May 27. It
        call Caryn R. Bartone, (734) 326-6123 ext  Camp information is available there from  Commission on Aging and the Inkster  will end at Veterans Park at Main and
        2844.                                  Marcarius Coakley at (734) 453-5464, Ext.  Police Department.               Church streets with a special program
                                               632.                                                                        saluting veterans.
        Rouge Rescue at Holliday Nature Preserve  For Plymouth, open registration began  Blood drive at Township Hall
           The Holliday Nature Preserve Rouge  in under way, and has a $20 registration fee  Plymouth Township Hall, 9955 N.  Author speaks at library
        Rescue will take place from 8:30 a.m. until 1  per child plus the first week tuition. Camp  Haggerty Road, will be the site of an  Author Rick Bailey will be a guest of the
        p.m. Saturday, May 18 at 6867 North Hix  meets from 10 a.m. to 3:30 p.m. Monday  American Red Cross Blood Drive from 1-7  Writing Group of the Plymouth District
        Road in Westland.                      through Friday, with $75 per week tuition  p.m. on Wednesday, May 22.       Library from 1:30-3:30 p.m. Tuesday, May
           Volunteers will be removing trash from  and pre-care and after-care options for an  The blood drive will take place in the  28.Bailey will share his experiences as a
        the creek and floodplain, cutting and piling  additional fee of $15 per week or $5 per day.  board meeting room.   published writer.  The library is located at
        invasive honeysuckle plants and removing  This year, camp is June 17 through Aug. 2.  Coordinator of the drive is Fire Chief  223 South Main St. Plymouth.  There is no
        wood to open log jams in the Rouge River.   For Wayne-Westland, 2300 S. Venoy Road  Daniel Phillips. For more information, call  charge for this event which is open to the
           For   more    information,   visit  in Westland, Summer Day Camp will take  (734) 354-3221                      public.
        www.hnpa.org.                          place from June 17 through Aug.16, Monday  The need for blood is constant and only
                                               through Friday, Field trips such as the  volunteer donors can fulfill that need for  Blood Drive at city hall
        Breast cancer research walk Saturday   Detroit Zoo and more are featured during  patients in our community. Nationwide,  The American Red Cross is facing a
           The 21st Annual 5K Fun Run/Walk     the eight weeks.                      someone needs a unit of blood every 2 to 3  blood emergency and has issued an urgent
        organized by North Brothers Ford and The  The Wayne-Westland corps serves    seconds and most Americans will need  call for eligible individuals of all blood
        City of Westland will begin at 9 a.m.  Westland, Wayne, Inkster, Romulus and  blood in our lifetime.               types to #GiveNow and help save patient
        Saturday, May 18.                      New Boston.                                                                 lives.
           All proceeds go locally to the Barbara  The Wayne-Westland camp is for ages 6-  Social media is topic              A blood drive is planned from 10 a.m.
        Ann Karmanos Cancer Institute for Breast  12, costing $65 per week, with registration  The Wayne Public Library will host a  until 3:45 p.m. Thursday, May 30, at
        Cancer Research. The event will start at the  now under way at the Wayne-Westland  speaker who will discuss keeping children  Plymouth City Hall, second floor, 201 S.
                                                                                     safe online from 6-7:30 p.m. Thursday, May  Main St., Plymouth.           Visit www.red-
           Markets                             Bartlett-Travis House to exchange     23. The program is presented by Wayne  crossblood.org
                                                                                     Youth and Family Services as part of the
                                                                                                                           [https://www.redcrossblood.org/give.html/dri
                                               SNAP Dollars for market tokens, dou-
                                               bling spending on fresh produce. The  Parent Workshop Series.               ve-results?zipSponsor=pch]   to learn more
           FROM PAGE 1                         Canton Market also accepts WIC          Websites, apps, parental controls, cur-  and to schedule and appointment (enter
                                               Project Fresh and Senior Project      rent laws and ways to stay abreast of teen's  sponsor code PCH) or call 1-800-RED-
           Westland All-American Farmers &     Fresh.                                screen usage will be discussed.       CROSS (1-800-733-2767). For donor eligibili-
           Artisans Market takes place in the    Upcoming special events for Canton    For more information, please call (734)  ty questions, call 866-236-3276
           structure/pavilion grounds on the west  include a perennial exchange on May  721-7004.
           side of Carlson south of Ford Road in  19, May 26 and June 2. The free Bark in  The library is located at 3737 S. Wayne  Hall of Fame is dedicated
           Westland. The market is presented by  the Park event, located a short trail  Road in Wayne.                        The new Wayne Memorial High School
           the Westland Downtown Development   walk away from the Farmers Market at                                        Athletic Hall of Fame will be officially dedi-
           Authority and City of Westland. More  the adjacent Canton Dog Park, will  Church hosts blood drive              cated in a ceremony set for 6 p.m. Friday,
           information is available by visiting  take place on May 19 during market    St. Mary Catholic Church, Wayne, will  June 7.
           www.westlandfarmersmarket.com or    hours from 11 a.m. to 1 p.m.          host a Red Cross Blood Drive from 8  a.m.  The Hall of Fame had been part of the
           calling (734) 326-7222.               More information is available at    until 2 p.m. on Sunday, May 26 at the activity  Wayne-Westland Athletic Hall of Fame cre-
             The Westland market will be closed  www.cantonfun.org or by emailing can-  center of the church, 34530 W. Michigan  ated to honor area athletes and their
           for Independence Day and also on Aug.  tonfarmersmarket@canton-mi.org.    Ave. in Wayne.                        accomplishments and encourage communi-
           22. There will be a "Pet Palooza" for  The Farmers' Market in Northville    To schedule an appointment, log onto  ty pride and housed at Jake's Again Lounge.
           well-behaved pooches on June 20, com-  sells produce from Michigan farms  redcrossblood.org(sponsor code: (stmary-  The new Hall of Fame will be housed in
           plete with contests.                only, crafts and more, from 8 a.m. to 3  wayne)or call 1-800-RED CROSS (1-800-733-  the Alumni Arena on the Wayne Memorial
             The Canton Farmers Market takes   p.m. Thursdays at the corner of       2767).                                High School campus and will include indi-
           place rain or shine from 9 a.m. to 1 p.m.  Sheldon and Seven Mile roads, across  To save time, donors can pre-read all  viduals that have been identified as having
           Sundays at Preservation Park, 500 N.  from Northville Downs. It's sponsored  materials and answer the questionnaire  a direct connection to Wayne Memorial
           Ridge Road. It offers vendors, fresh  by the Northville Chamber of        before arrival by logging in at redcross-  High School.
           food, live music and more, and will be  Commerce and continues through Oct.  blood.org/rapidpass.                  The event will be open to the general
           closed July 7. The last day for the  31.                                    Come to give May 24-28 to support trau-  public and school officials urged the fami-
           Canton outdoor market is Oct. 13.     New this year at Northville, a food  ma patients and get a Red Cross T-shirt,  lies and friends of those honored in the
             Bridge Cards are accepted at the  truck will be on site to sell lunch and  while supplies last and a $5 Amazon.com  Hall of Fame to attend.
           Canton Farmers Market. Participants  refreshments through May and every   gift card by email. Restrictions apply, see  Wayne Memorial High School is located
           may bring their Bridge Card to the  third Thursday after May.             amazon.com/gc-legal.                  at 3001 Fourth St. in Wayne.