Page 6 - eagle020719
P. 6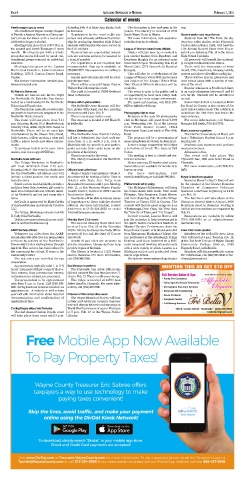 PAGE 6                                                         ASSOCIATED NEWSPAPERS OF MICHIGAN                                          February 7, 2019

                                                                        Calendar of events


        Family support group meets             Saturday, Feb. 9 at Mary Ann Banks Park  The discussion is free and open to the  .org.
           The Northwest Wayne County Chapter  in Romulus.                           public. The library is located at 3737
        of Families Against Narcotics offers a sup-  Registration for the event is $10 per  South Wayne Road in Wayne.     Student station sets record show
        port group for those with a loved one  person and proceeds will benefit scholar-  For more information, visit waynehis-  Students from 88.1 The Park, the stu-
        addicted to drugs or alcohol.          ship for graduating Romulus High School  toricalsociety on Facebook.        dent-run radio station at the Plymouth
           Meetings take place from 6:30-7:30 p.m.  students with families who have served in                              Canton Educational Park, will host the
        the second and fourth Tuesdays of every  the U.S. military.                  League of Women voters hosts officials  11th Annual Record Show from 10 a.m.
        month.  Meetings begin with a whole      Teams of four are expected but individ-  Inkster officials have been invited to  until 4 p.m. Saturday, Feb. 16 in the Salem
        group discussion followed by small con-  uals are welcome and may be assigned to  join elected leaders from Dearborn and  High School Cafeteria.
        versational groups centered on individual  a team, if possible.              Dearborn Heights for an informal open    All proceeds will benefit the national-
        concerns.                                Pre-registration is not required, but  house from 5-7 p.m. Wednesday, Feb. 13, at  ly-recognized student radio station.
           Meetings take place at the Canton   recommended. Sign up is available at  Merci Café, 3371 Greenfield Road at      There will the thousands of vinyl
        Municipal Complex, Administration      (734)942-7571. No experience in curling is  Rotunda.                        record, CDs, import only releases, t-shirts,
        Building, 1150 S. Canton Center Road,  necessary.                              This will also be a celebration of the  posters and other collectibles on display.
        Canton.                                  Snacks and refreshments will be avail-  League of Women Voters 99th anniversary  There will be special giveaways and
           For further information contact jaca-  able for purchase.                 and copies of the League Who's Who:   door prizes along with a variety of ven-
        lynsanders@aol.com                       There will be a special Happy Hour at  Your Elected Officials directory will be  dors at the event.
                                               Walter's Bar following the event.     available.                               Regular admission is $3 although there
        St. Patrick's Soiree set                 The park is located at 37200 Goddard  The event is open to the public and is  is an early-admission between 9 and 10
           Tickets are now on sale for the Night  Road in Romulus.                   an opportunity to meet local policy mak-  a.m. for $5.  Students will be admitted at
        for Northville St. Patrick's Day Soiree                                      ers face-to-face in an casual environment.  no cost.
        hosted as a fundraising for the Northville  Photos with Cupid available        For more information, call (313) 278-  Salem High School is located at 46181
        Educational Foundation.                  The Belleville Area Museum will fea-  6476 or info@lwvddh.org.            Joy Road in Canton at the corner of Joy
           The foundation annually awards multi-  ture photos with Cupid and face painting                                 and Canton Center roads. The cafeteria is
        ple grants to teachers and programs in the  from noon until 3 p.m. Feb. 9.   Photography club to meet              located on the first floor, just inside the
        Northville Public Schools.               There is no charge for the event.     Members of the only 3D photography  main entrance.
           The event will take place from 7-11   The museum is located at 405 Main St.  club in Michigan will meet from 7-9:30  For more information, call Station
        p.m. Saturday, March 16 at Meadowbrook  in Belleville.                       p.m. Wednesday, Feb. 13, at the Livonia  Manager Bill Keith, (734) 416-7732.
        Country Club, 40941 Eight Mile Road in                                       Civic Park Senior Center, 15218
        Northville. There will be an open bar,  Make a Valentine card                Farmington Road, just south of Five Mile  Music students to perform
        entertainment by the Shawn Riley Band,   The Belleville Area District Library  Road.                                  The Harris Conservatory of Music will
        Irish dancers, a silent auction, a wine pull  will hot a Valentine's Day Card craft ses-  The program will be a presentation of  host a Valentine's Student Jam at 4 p.m.
        raffle a photo booth and other amuse-  sion from 11 a.m. until 3 p.m. Feb. 9.  some remarkable 3D videos by John Hart.  Sunday, Feb. 17.
        ments.                                 Materials will be provided and partici-  A stereo image competition will follow  Students and teachers will perform
           To purchase tickets or for more infor-  pants can take their cards home or dis-  a refreshment break. The topic is Fall  musical selections.
        mation, visit www.supportNEF.org.      play them at the library.             Colors.                                  Admission is free.
                                                 There is no cost for the event.       The meeting is free to attend and visi-  The event will take place The
        Northville hosts ArtCrush                The library is located at 164 Fourth St.  tors are welcome.               Plymouth Roc, 1020 Ann Arbor Road in
           The Village Workshop in Northville  in Belleville.                          Stereo cameras, 3D movies, and educa-  Plymouth.
        will host ArtCrush from 7-10 p.m.                                            tional videos are available for members to  For more information, call (734) 415-
        Saturday, Feb. 9. The event is a fundraiser  Officials host coffee hour      borrow or rent.                       8250.
        for the Northville Art House and will    Wayne County Commissioner Glenn S.    For    more   information,    visit
        include a silent auction, live music and  Anderson will be hosting a Coffee Hour in  www.Detroit3D.org, or call (248) 398-3591.  Mayor is luncheon speaker
        hors d'oeuvres.                        Inkster with State Sen. Betty Jean                                             Romulus Mayor LeRoy D. Burcroff will
           Silent auction item highlights include a  Alexander from noon until 1 p.m. Monday,  Philharmonic set to swing   be the speaker at the Greater Romulus
        necklace from Orin Jewelers, gift cards to  Feb. 11, at the Western Wayne Family  The Michigan Philharmonic will bring  Chamber of Commerce February
        local area restaurants and artwork donat-  Health Center, located at 2700 Hamlin  the house down with music from Duke  Business Luncheon beginning at 11:30
        ed by Northville gallery and many other  Boulevard in Inkster.               Ellington, Billy Strayhorn, Harry Warren  a.m. Feb. 19.
        items.                                   Residents will be able to discuss issues  and more Saturday, Feb. 16 at the Village  The luncheon will take place at the
           ArtCrush is sponsored by Mark Corbin  of importance to them with the elected  Theater at Cherry Hill in Canton. The  Sheraton Detroit Metro Airport, 8000
        of Raymond James and Bandoni Creative  officials. For more information, contact  concert will feature great songs such as  Merriman Road in Romulus. Seating is
        LLC.                                   Anderson at (313) 224-8855 or email   "Chattanooga Choo Choo, "As Time Goes  limited and reservations are requested by
           The Village Workshop is located at 455  District12@waynecounty.com        By, "Take the A Train, and "Get Happy".   Feb. 15.
        E. Cady St in Northville.                                                      Detroit vocalist, Lauren Norris will   Reservations are available by calling
           Tickets are more information are avail-  Monday Book Club meets           join the orchestra to help everyone get in  (734) 893-8654 or at admin@romu-
        able at northvillearthouse.org           The Second Monday Book Club will    the spirit. Norris earned her Master's in  luschamber.org.
                                               meet at 7 p.m. Feb. 11 at the Romulus  Musical Theatre Performance from the
        AARP tax help offered                  Public Library to discuss the Betty White  Royal Conservatoire of Scotland and a BA  Lions Club hosts speaker
           Volunteer tax aides from the AARP   memoir, If You Ask Me (And Of Course  from Marymount Manhattan College. She    Members of the Belleville Area Lions
        Foundation will offer free tax preparation  You Won't).                      has performed at the Edinburgh Fringe  Club will meet at 6 p.m. Tuesday, Feb. 19,
        services to seniors at the Northville    Adults 18 and older are welcome to  Festival and been featured on a BBC   at the Ted Scott College of Wayne County
        Community Center starting today through  join the discussion. Library staff can help  radio broadcast working internationally  Community College District, 9555
        April 12. This service has been offered to  provide copies of the book.      with a wide variety of artists. Lauren is a  Haggerty Road, in Belleville.
        the community for at least 10 years at the  The library is located at 11121 Wayne  Michigan native and graduated from  Speakers will discuss pediatric cancer.
        Community Center.                      road in Romulus. For more information,  Salem High School.                  For information, call (248) 390-9233 or bal-
           The tax aides are certified for tax  call (734) 942-7589.                   For tickets: www.cantonvillagetheater  clionjo@comcast.net.
        preparation.
           Appointments typically take 1 to 1-½  Sax Maniacs to perform
        hours. Taxpayers will get a copy of their e-  The Plymouth Ann Arbor Elks Lodge
        filed returns. Only personal tax returns,  325 will present The Sax Maniacs from 7-
        not business tax returns, are processed.   10 p.m. Feb. 12. There is a $5 cover charge.
           Tax preparation is by appointment     The lodge is located at 41700 Ann
        only, from 8 a.m. to 3 p.m. Call (248) 305-  Arbor Road in Plymouth. For more infor-
        2851 during business hours to schedule an  mation, call (734) 453-1780.
        appointment.  A volunteer will return
        your call with information about required  Prisoner of War camps discussed
        documentation and confirmation of        The Wayne Historical Society will host
        appointment time.                      author and historian Gregory Summer
                                               who will discuss his new book focusing on
        Curling Royale slides into Romulus     World War II prisoners of war in Michigan
           The 2nd Annual Curling Royale event  at 7 p.m. Feb. 13 at the Wayne Public
        will take place from noon until 3 p.m.  Library.